Aulani Trip Report
November 1, 2011
Welcome to my Aulani Trip Report!
DH and I have both never been to Hawaii, and never traveled over the ocean to a far off destination for that matter.  I've always wanted to go to Hawaii, so when DVC presented us this opportunity right around our 5 year anniversary my DH sure couldn't refuse! Our trip is in October, two months after the resort opened.
Now, I'm a meticulous planner, so all the mystery around Aulani was a bit of a nail biter for me. I did appreciate though how instead of worrying about plans I was able to just sit back and wait for the vacation to arrive. That isn't to say that I didn't get some planning in! I started by looking at the excursions listed for Aulani at http://www.mousesavers.com/hawaii.html and they all sounded so great!  We also looked at
http://www.hawaiiweb.com/oahu/sites_to_see/waterfalls.htm
http://www.discover-oahu.com/hikinginOahu.html
http://www.oahu.us/oahu_shopping.htm
http://www.turtles.org/laniakea.htm
as well, so we could really see what the island had to offer and narrow down what we really wanted to do.  This list included: see sea turtles up close, surf, hike a crater, see a rainforest, see a waterfall, eat from a shrimp truck (that was DH's), do Yoga on the beach, have a couple's massage, learn to Hula, make a lei… okay, the list was pretty long! We knew we wouldn't get everything in, but it was a start. Plus we figured once we got there we'd narrow down based on how we felt each day.
By the time we left, our itinerary looked something like this:
Saturday: Flight at 8:09am, landing in Honolulu at 5:40pm. Pick up Rental car, grab some dinner, and visit Target for Groceries
Sunday: Try to get in at the Character Breakfast (ADRs were all taken). Drive to North shore to visit the Laniakea Turtles and eat at a Shrimp Truck. Stop by the Dole Plantation on the way home for a Dole Whip!
Monday: Hike Diamond Head, Koko Crater Botanical Gardens, and the Manoa Falls Trail. Pack a Picnic lunch.
Tuesday: HoniHoni Massages (call to get an appointment) then hang around the spa. Paradise Cove Luau that night.
Wednesday: Hawaii Fire Surf School (Adventures by Disney Excursion) 8-11am. Afterwards: Downtown sightseeing and shopping.
Thursday: Kualoa Ranch Experience (11am-6:30pm)
Friday: Check out. Lounge around the resort or do any last shopping / sightseeing. Leave for the airport around 4. Flight home at 8:15pm.
Next up:  Flights and Check-In
Day One:  Flights and Check-in
I got up at 5am to shower, and then our cab came at 5:45.  We had a pretty normal flight out of Winnipeg, and then were greeted by rain/ice/snow slush in Denver (and coming from Winnipeg, I was not thrilled to see my first bit of snow for the year… I'll get enough of that later this year!).
The flight from Denver was normal as well, but I now have to warn anyone that hasn't been to the Phoenix airport to be prepared.  We were in a different terminal when we landed, and it turned out we had to take a shuttle to the other terminal, but to get on that shuttle (a bus) you have to leave security, and go to the shuttle area (one comes every 7 minutes they said), get taken to your terminal, go through the baggage check area to find security, go back through security, and then still have a ways to go to get to your gate.  We had almost an hour between our Denver plane landing and our Phoenix plane leaving, and we were the last people to make it on the Phoenix plane (greeted with "we didn't thin you were going to make it!").
For anyone who has not had long flights before (normally I fly two 2-hour flights from Winnipeg to Orlando) my best advice would be to pack snacks (unless you like the sandwiches the plane serves, I don't) and if you get any sort of motion sickness take your Dramamine and pass out in the corner.  I didn't bring snacks, which lead to me eating some chips and cookies from the plane offerings and then being super hungry (in addition to super tired) when we landed.  It was nice that I was able to take my motion sickness medicine and pass out on our second plane, but the last one I was in the middle and didn't get to sleep off my Dramamine, which left me just feeling funky later.
Honolulu Airport
We landed in Honolulu to clouds and light rain, but it was still so beautiful (especially since I love warm rain).  We had to get our bags and get our rental car (the shuttle system wasn't very clear – we didn't see anything that indicated where each shuttle stopped, so we stood by the "Rental Car Shuttle" sign and we had to hail down the National shuttle for them to stop where we were).  We had pre-ordered the rental car so getting it was painless, and then getting on the H1 was painless as well.  I was a little surprised by the traffic (we were later told that they say almost one million people live on Oahu and you can see 80% of them in rush hour, lol) and also by the dark.  It got dark around 6pm (so not a whole lot of pics today)!  It was pretty easy to get to Ko Olina off the H1 though (everything is well marked).
As soon as we pulled up to the gate of Ko Olina to tell them who we were, we knew we were at Disney – the cast member at the gate was high energy, enthusiastic, friendly, and helpful.  We felt exactly like we had pulled up to a Disney Resort!  When we pulled in saw a "Lot Full" sign at the self park parkade, so we went to Valet and I told him I was a member.  He said they could valet my car for 10-15 mins while we check in, or that I could ahead and park into the lot because they keep spots open for members even though it says full.  We opted to park and roll our bags up because I was pretty tired and didn't want to deal with going back to the car.  We found an elevator in the parkade that takes you to the lobby level, and then took a nice (albeit dark) path to the resort.  Because it was around midnight our time (and we had been up since 5am our time) I was pretty tired and just ready to get to the room, so we beelined it past all the valet and bell services and into the lobby to check in, but then I heard someone calling out.  We turned around and a cast member (RJ) had been waiting for us!  He gave us our lei and kukui nut necklace, then walked us into the lobby and out the back to look at the Waikolohe Valley (pool/lazy river).
Forgive the blurry pic of Waikolohe Valley
Then he surprised us with our room keys since we had done online check-in (he was my hero at this point)!  Then he walked us to our elevator (and he did tell us welcome home, although I felt more like I was intruding on the home of those that are actually lucky enough to be able to own Aulani) that would take us to the 9th floor to our ocean view studio.
Our Balcony View
View of the main building
Studio Bed – we found out that the quilt is available for purchase through the Kalepa store. They don't stock it, but they'll ship it!
Pull-out Couch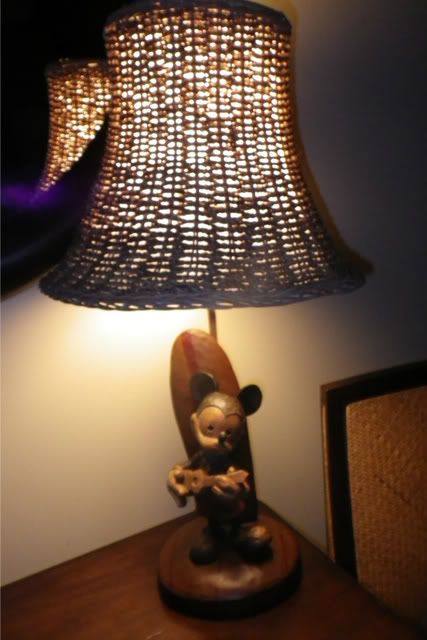 Mickey Lamp (also available to order through the Kalepa Gift Shop)!
Since we had skipped going to get groceries and I was too tired to go too far, we ended up getting hot pockets from the resort store, eating one, and then passing out!
Up Next:  Aunty's Breakfast Celebration and North Shore (and lots of pics!)
Chapter Day 2 (Sunday):  Shrimp, Turtles, and Dole Whips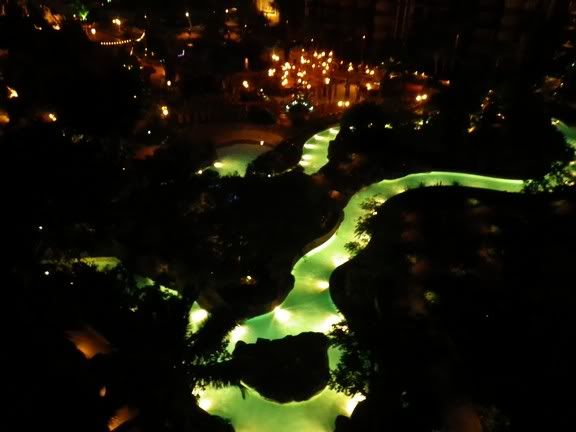 A less blurry picture of Waikolohe Valley
I woke up at 5am (10am our time), but DH was up too, so we went out to the porch to find it still pitch black outside.  I decided to start on my Trip Report for both myself (so I can remember all the details of this awesome vacation) and for the DIS, because I was hanging on every typed word about Aulani before I came here!  DH went and got the IWA (newsletter) for the day so we could see what was going on at the resort that we might be interested in.  Turned out there was Sunrise Yoga at 7am, one of the things I especially wanted to try!  So we headed out a little after 6am to wander the Waikolohe Valley to sightsee while the resort was quiet before we met for yoga.  Before we left though we got to see the resort start lighting up – and we felt like the ocean got a "big reveal" as it went from pitch blackness to beautiful ocean view!
We head to the beach around 6:15am, walking through the Waikolohe Valley and seeing lots that we didn't explore yesterday.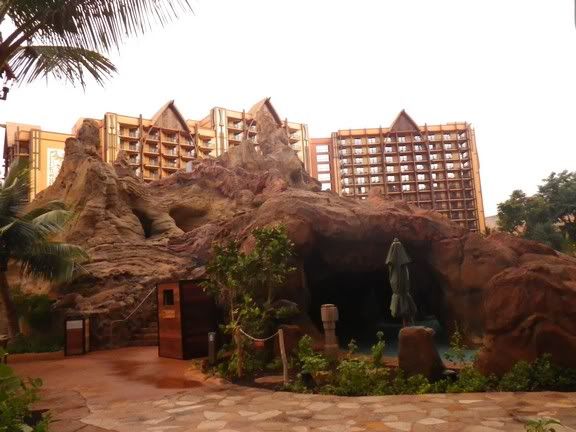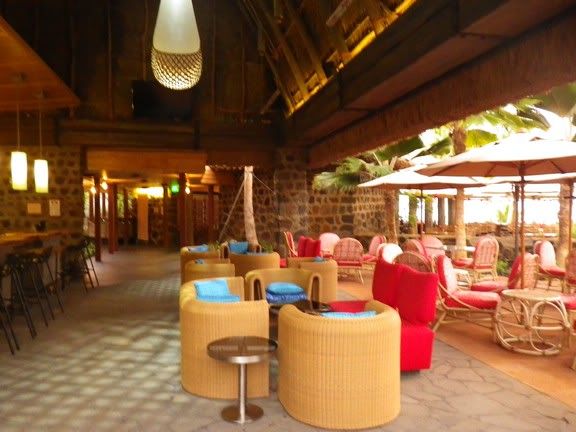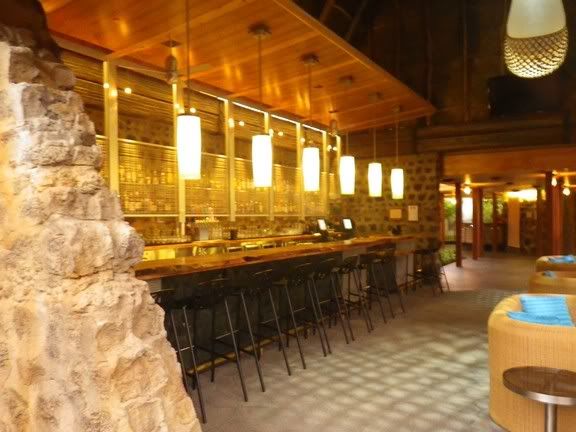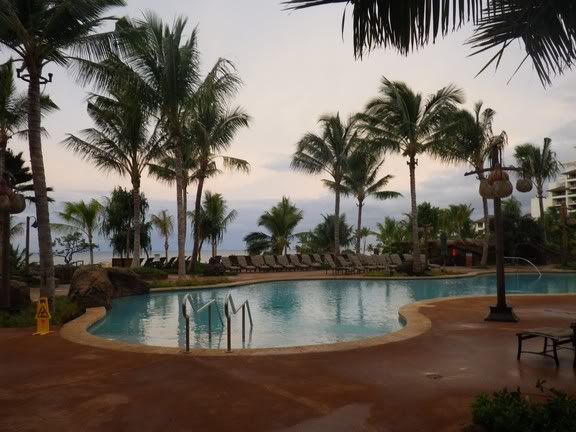 Pool by "Off the Hook"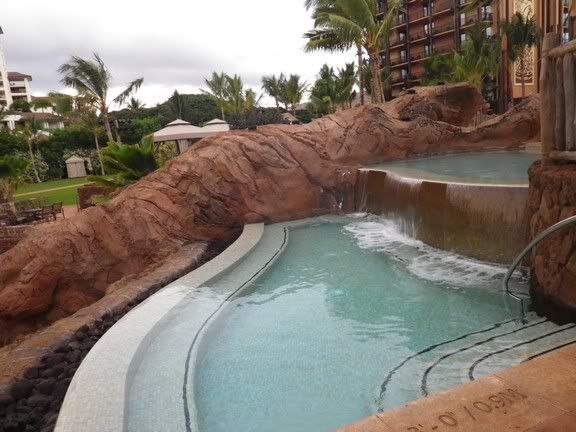 Hot Tub
You can see the rental chairs with top up here (no cushions though)
Entry Gate (requires room key)
Makiki Joes' Beach Rentals
Then we go to Makiki Joes' Beach Rentals.  The beach had a few people either sitting in the sand, swimming laps in the cove, or walking/jogging the trail.  At around quarter to 7 the yoga instructor and a few other people showed up and around 6:50 we start heading to a "more private location."  On our way down the path she told us information about the area (the resorts, the cove, etc).  She was very knowledgeable, friendly, and answered all of our questions – a perfect Disney Cast Member (which tickled me, because I never had a Disney Yoga instructor before!)  The yoga wasn't actually on the sand part of the beach, but it was over (past the chapel) in a beautiful grassy area with palm trees.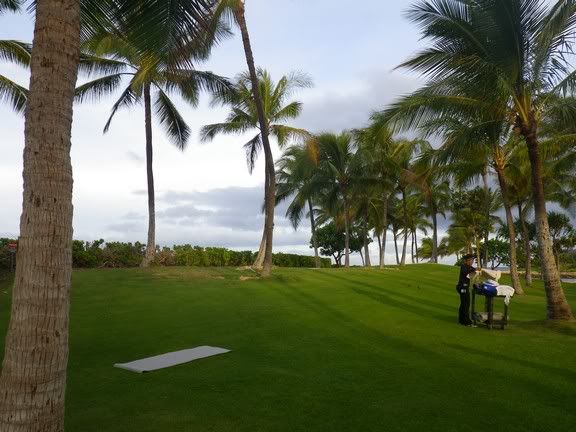 It wasn't a particularly intense yoga session (there was one first-timer out of the five of us) but it was amazing.  I'd never practiced outside before, so it was really nice to hear the water, see the birds and the trees, feel the grass, and let the sun warm us up.  The instructor said they have 2 people teaching classes right now, and they will have 5 by Christmas.  She said right now they have 3 classes a day right now (alternating between yoga, stretching, walking, different level of pool workouts, and muscle fitness).  She also said they are working on programs for teen fitness, which I found interesting.
View of Aulani as we walked back from Yoga.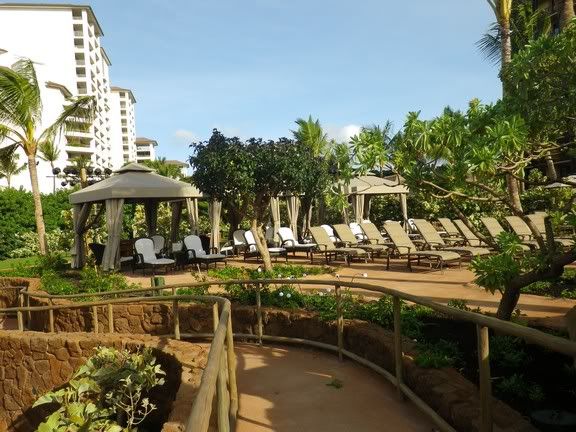 Cabanas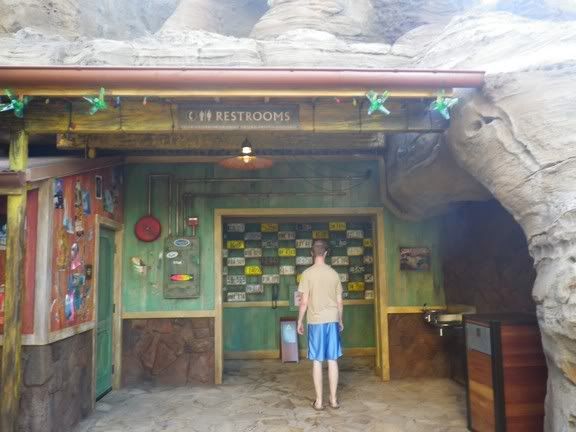 Signs pointing to the Lava Shack, and Papalua Shaved Ice stand behind it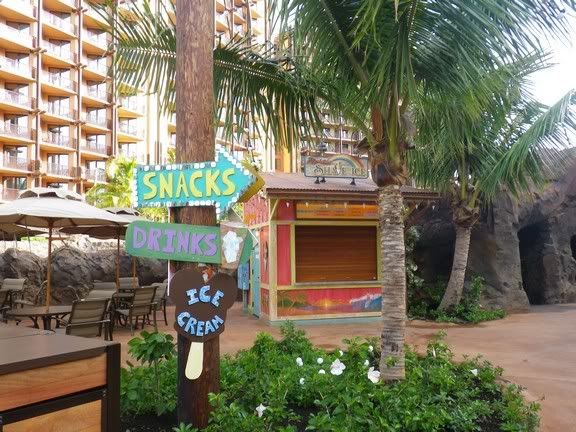 Signs pointing to the Lava Shack, and shaved ice stand behind it
Lava Shack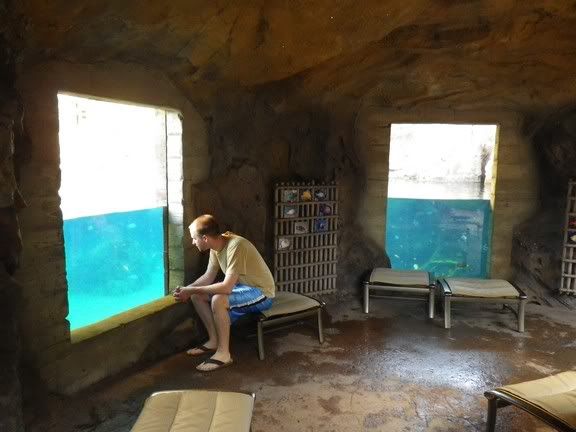 Looking at fish in Rainbow Reef
Fish in Rainbow Reef
Oh!  Water!  Don't mind if I do!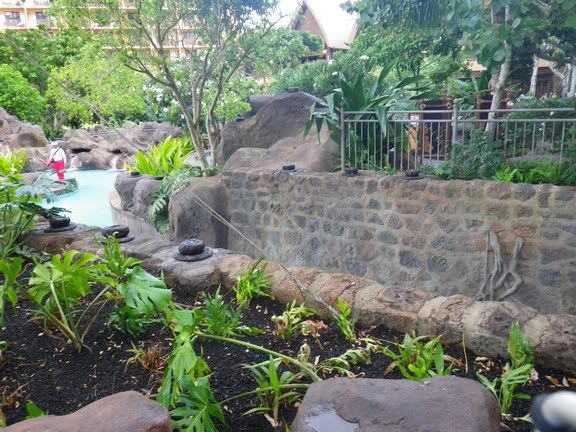 Lazy River
Kukui nut torches
PART 2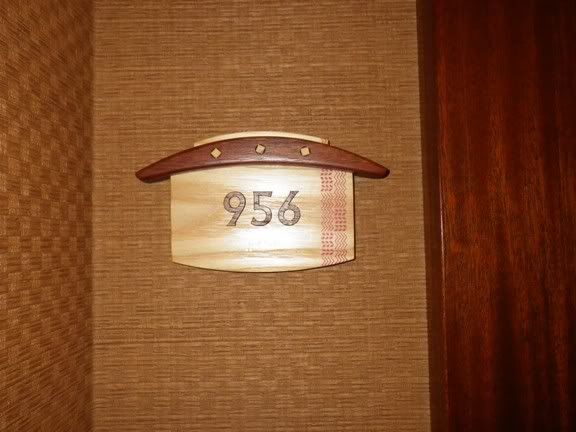 Our Room Number
A more well-lit view
After yoga we went back to the room to change and then headed down to the Makahiki restaurant to see if we could get a table at the character breakfast.  We could, with a half-hour wait (at about 9am).  While we waited we read the stories on the walls in the Makahiki room.  When we entered we got our picture with Mickey (which we could purchase for $30 and then get put on our photopass – although they did offer to take a picture with our camera), and across the way we saw Stitch taking pictures (too bad he couldn't come to the breakfast – I love the Ohana Breakfast with Stitch at the Polynesian).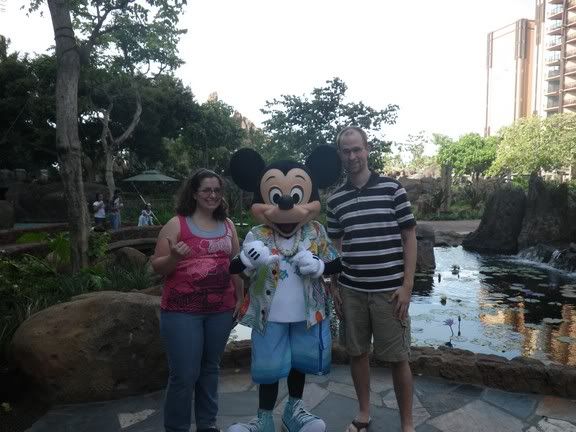 Mickey Waffles!
This breakfast only had Mickey (when you enter), Minnie, and Goofy (plus Aunty, who provides some really upbeat and cheerful entertainment with lots of participation opportunities for kids).  Comparing it to the other character breakfasts it doesn't come close (I think my favorite interactions are at 1900 Park Fair, although here they each had a handler to take pics for us) and comparing it food-wise I think Chef Mickey's and Tuskar House have a much better selection of food.  DH really liked the food though, he was so happy he got rice and Dim Sum for breakfast.  The worst part was the bill, considering we always get the dining plan and never get a bill at WDW!!!
Back to the room to shower and prepare for our drive to North Shore!  The drive up there was about 45mph, sometimes 35mph, so it was hard keep the foot off the gas!
Lots of time to enjoy the view!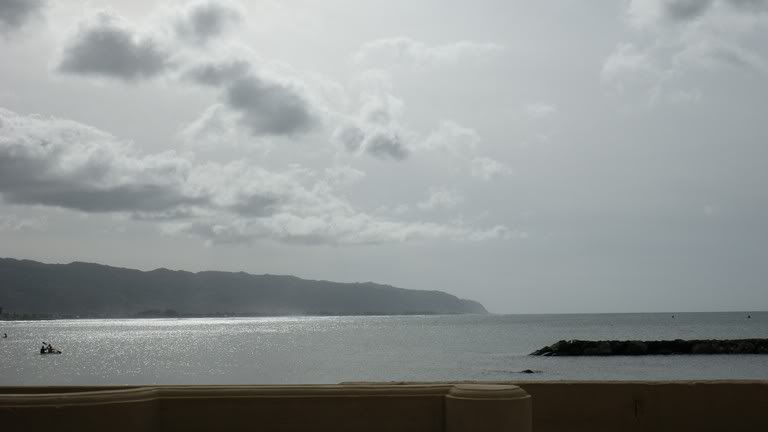 At some point after the North Shore sign traffic gets really backed up, and I'm unsure why (although it could be all the people darting across the road, cutting through traffic).  We had a ways to go past that first North Shore sign to get to the shrimp trucks though.  We (and by we, I mean DH) ate at Romy's (it was actually a building though, not a truck).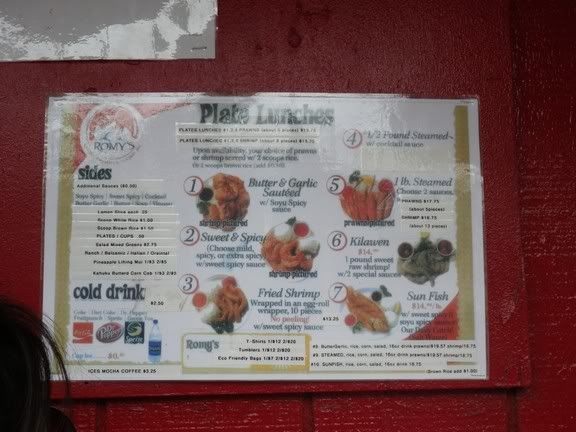 Menu
He got the (mild) spicy shrimp and it came with a drink and two scoops of white rice.  I got a salad of mixed greens and croutons and a side of Italian dressing.  DH liked his shrimp (but it seemed a lot of effort to de-head, shell and sometimes de-vein them).  This place also served huge prawns, so don't take any sea-life loving children there!  DH actually said that the shrimp at the Polynesian was better (and less effort).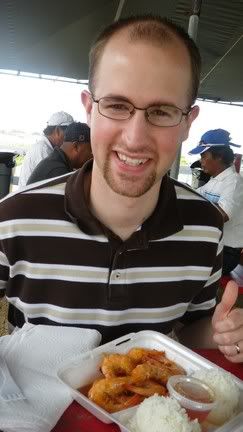 Next we had to find the turtles.  I found online that they go to Lanikai beach, but my google map directions weren't that great.  We finally looked at my print-out from the site and were able to find exactly where the beach was (we had passed it twice – but it's a little beach off right by the road and there were 3 tents pitched that we had seen and wondered about when we drove past it), and were amazed that there really were 5 giant sea turtles just sitting there in this tiny little area!
They were breathtaking to see, but that's coming from a turtle lover.  We could have stayed there forever gawking, but when a bus unloaded and it got super crowded (there was already a nice little crowd) we left.
On the way back from North Shore
On the way back it was time for dole whips (and time for me to get food in my belly).  At the Dole Whip plantation I got my dole whip (no swirl though, which was sad because I love the vanilla and pineapple flavours together) and a hotdog (which I can't properly review because by then I was just so hungry!) and DH got a dole whip float in a plastic pineapple souvenir cup.  We got there pretty late (4:30 and it closes at 5:30) so doing everything wasn't an option (besides, I was only there for the Dole Whip, lol) but once you get there and see the pineapples you start thinking you'd like to know how those pineapples grow, so if we had more time we probably would have done one of the tours, but instead we decided to do the maze (dole whip in my hand, dole whip float in DH's).
There are about 6 stations that you are supposed to find and then stencil the proof onto your card.  We found 2, but we also weren't trying (actually, I was trying to get us lost to see how long it would take us to find our way out lol).  At one part we rounded a corner and almost walked right into a peacock!  We were pretty startled lol.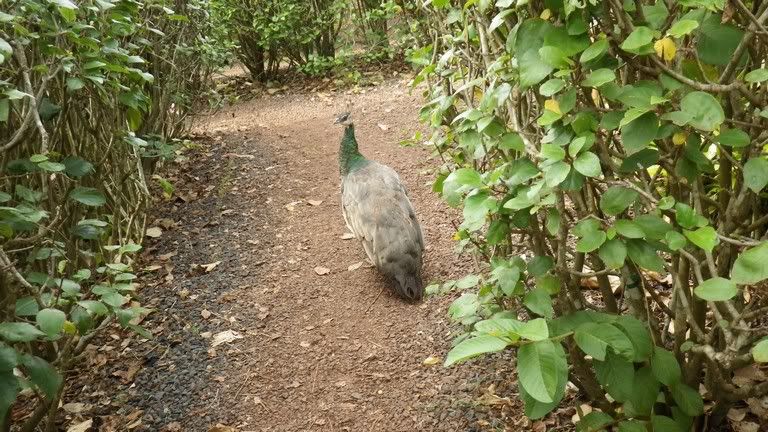 Maze guard
We found another way around her and then heard the next couple encounter the peacock (well, we heard them shriek).  No idea if that peacock lives in the maze or was just lost herself.  Was the maze worth the $13?  I guess, it was fun for a 1-time thing, but we'd only do it again if we had kids to take through it too.
Back in the car – this time to Target for groceries.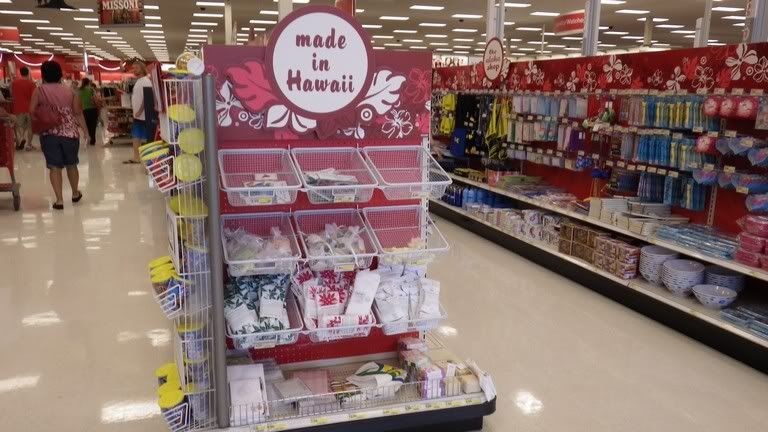 Hawaiian Target
We found the prices just a bit more than our normal prices at home in Winnipeg.  We got all the essentials, plus the things that I should have brought but overlooked (swim shoes, goggles).
Back at the hotel we quickly put away the groceries and changed into our swim suits for a lap around the lazy river before it closed (we got in it at 7:40 and it closes at 8!).
Then we hopped in the beautiful hot tub to look out at the dark beach and relax.  After that we went and laid in chairs to rest and enjoy the night – clear sky, big almost-full moon.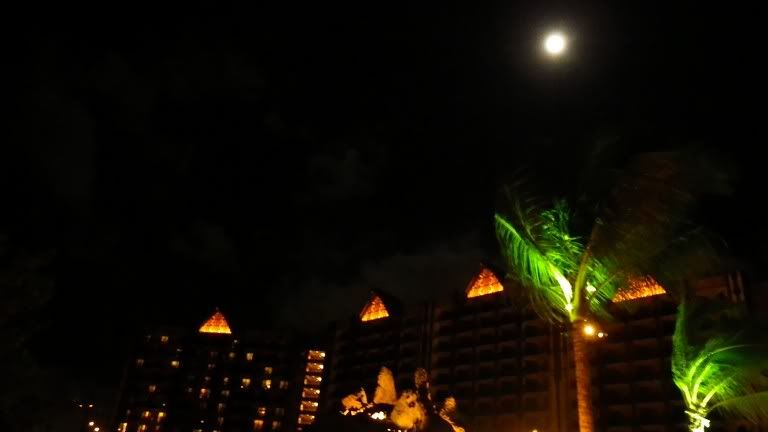 DH went to get towels and was told he needs a wristband every day (whoops!  We forgot about that before we got in the river!) and even though we were done swimming she still give him his daily wristband.  We laid by the pool (which was open till 11) for a bit, until I realized if I stayed any longer I wouldn't be able to get up (I was falling asleep, it was so peaceful).
We were in bed by 9pm (2am our time)!
A word on jet lag:  I did a little research on jet lag before we left.  I knew we would feel off and have weird sleep patterns.  We didn't try to adjust our sleep/wake patterns before we left, but we did make sure to stay hydrated on our travel day.  We also normally avoid caffeine and didn't partake in alcoholic beverages, so I'd like to say the only problem we had was waking up early and going to bed early.  They say it takes one day for every hour off, and it seemed to be true because by the end we were sleeping in more and staying up later!
Chapter Day 3 (Monday):  Diamond Head, Botanical Garden, and Manoa Trail
I woke up on Monday at 4:15 am, because I remembered I forgot to charge the camera!  (I did bring a second camera, just in case the first one broke or ran out of battery, but my main one is ruggedized and waterproof so I really didn't want to have to take the second one!  Luckily it got fully charged in the 2 hours before we left that morning).  We drank coffee and tea on the porch, while listening to the sounds all around us (the water and wind) and seeing Aulani get brighter with the colors light up (green grass, tan beaches, blue ocean).  It's just so relaxing to enjoy the mornings slowly – but we did want to get to Diamond Head (as what we read recommended you get there as close to the 6am opening as possible).
We got to Diamond Head and paid to park (they are cash only, $1.00 per person to get in or $5.00 per car to park and get in).  They actually had a line waiting to park, but we weren't waiting very long as car #4 in line (there were many people parking well before the gate and walking through the tunnel, but we chose to just wait to park).  In my reading I learned that this hike is considered easy to moderate.  I would say that it was moderate going up, easy going down (soooo much easier going down!)  The path starts off pretty smooth, and then gets a bit rockier.
We were getting a bit of rain too which made us a little weary at the prospect of slipping (or rocks coming loose and falling on our head).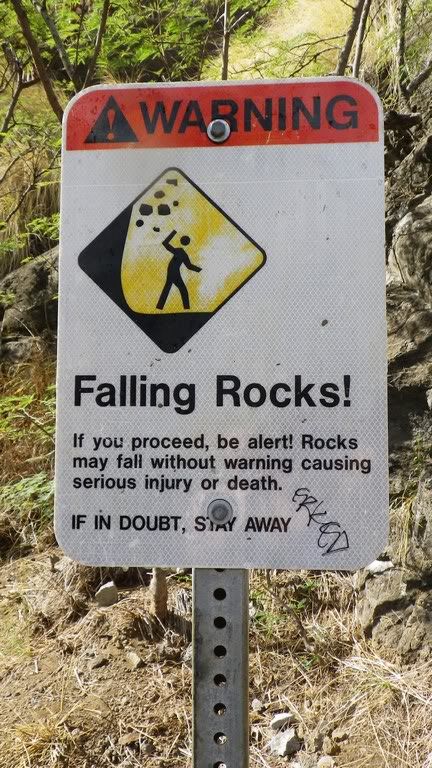 There were handrails in some places, but there was traffic going up and down the small paths at the same time (and only handrails on one side or the other at a time).  Before you get to the stairs portion of the trail there is a pretty nice lookout.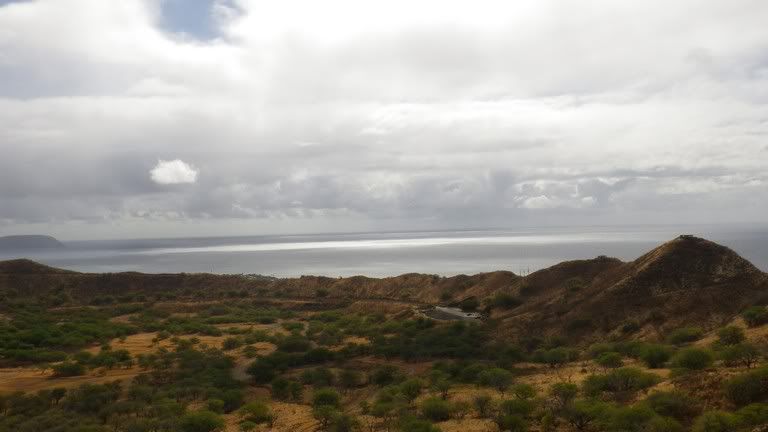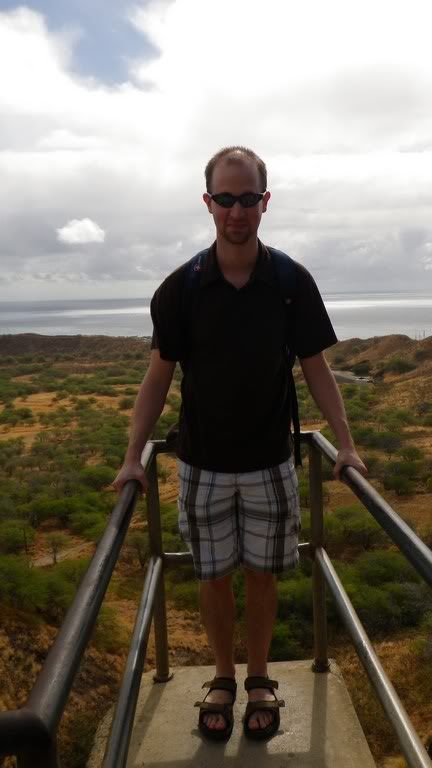 The little ledge you can stand on to look out further!
Then you hit the "fun" part – 99 stairs, followed by a dark tunnel, followed by 76 more stairs (these ones seemed even steeper than the first set), followed by entrance into the bunker area and a trip up a metal creepy spiral staircase (again, with traffic going both ways).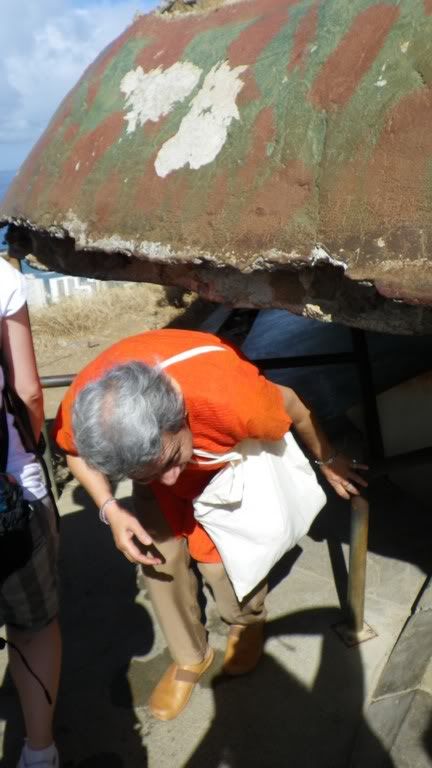 I don't know this person, but I wanted to show you how you have to exit the bunker
Then you crawl out of the bunker (there's no door, you have to bend over to get out) and you step into the most beautiful view!  You can climb some more stairs to get higher and different views.  It was definitely worth all those stairs!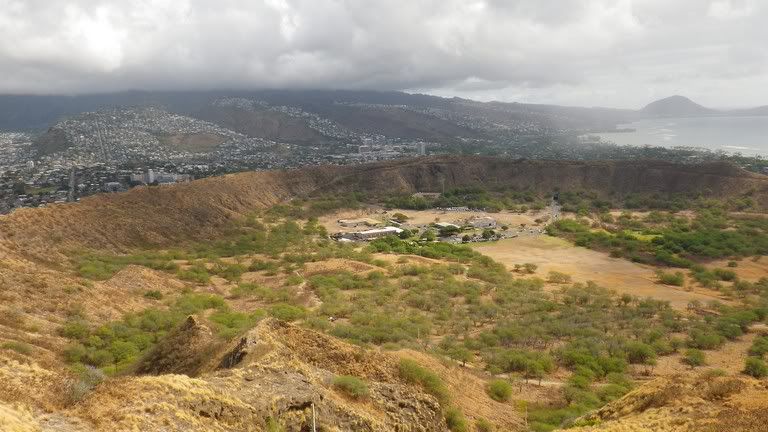 The bowl of the crater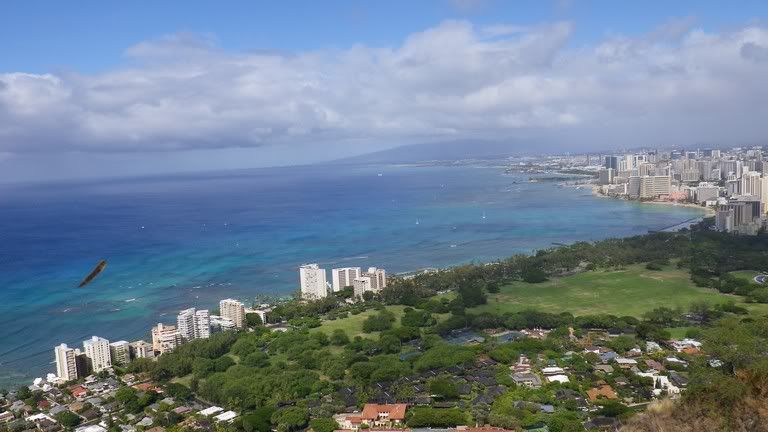 Looking over the ocean and Waikiki
After Diamond Head (we were there for about 2 hours) we headed east to Koko Crater.  On the way we passed Halona Blowhole and parked to watch (the Halona Blowhole is spouting water from waves crashing and moving through the natural lava tubes).  It was awesome to see, and fun when everyone cheered for the eruption!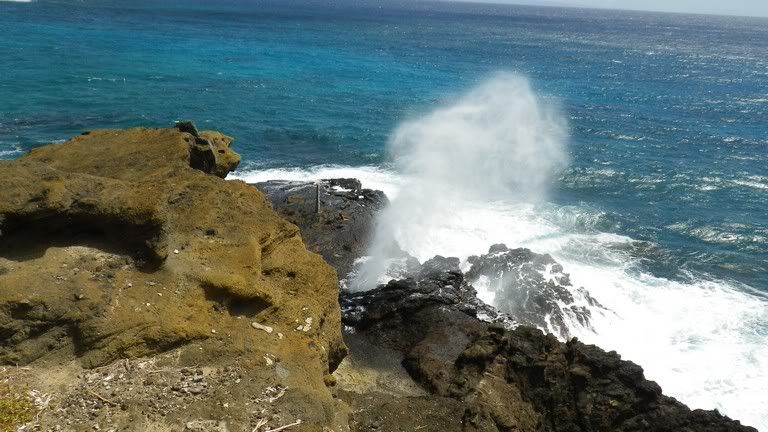 We traveled along the cost a bit more to sightsee (or because we passed our turn, who knows…) and got out to turn around and take pictures of the Seabird Sanctuaries (if you look on a map, you'll see we went well past KoKo Botanical Gardens, lol).
Me and DH with sanctuaries in the background
By the time we finally found Koko Crater (it was pretty hard to find as there weren't very many signs to guide you there) we were both edging on hungry and tired, and needing a reapplication of sunscreen (at least we brought water so we weren't thirsty, although we did have to be wary that Koko Crater has no restrooms).  As long as we were there we decided to go ahead and just stop somewhere for food as soon as we were done (as there didn't seem to be anything close by).  The crater was pretty cool to tour!  There were lots of pretty flowers (tons of Plumeria), and then some other interesting plants, cacti, and trees.
African Tree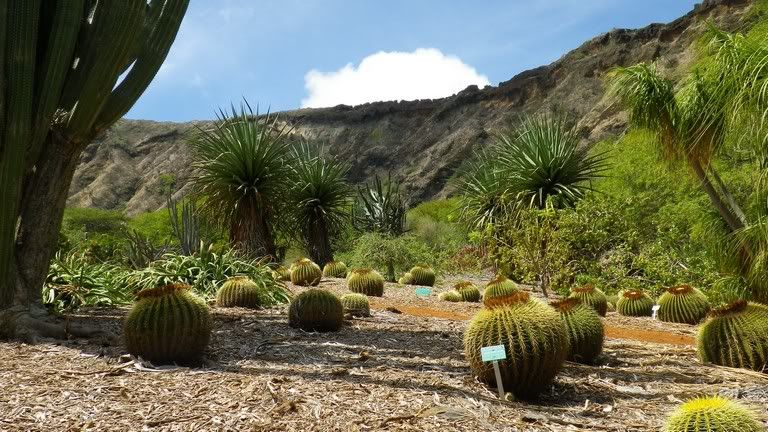 Cacti, and you can see the crater bowl circling us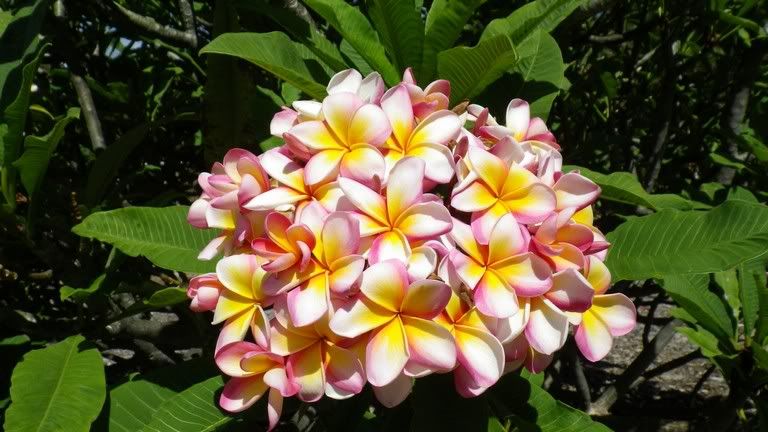 Plumeria
It was also fun (and hot) to be in the crater (you could look in all directions and see that you were in a bowl).  I don't know how Koko would rate compared to other botanical gardens, but we enjoyed it.
Next up (after food… which was McDonalds… I know… we were both ashamed but we were both desperate for something fast!) was the Manoa Trail.  I LOVED the rainforest hike!  It was otherworldly to see such huge trees and all the foliage.
Huge Trees
The trail was pretty rugged though, even though my research said it was easy.  I guess the hike was pretty easy, but the path was sometimes very thin (washed away), often waterlogged (we wondered when we started why people kept coming off the path with their shoes and legs covered in mud), and also a little precarious (steep steps that required a little jumping from my short stature, or rocks that required some careful attention before you used them as steps).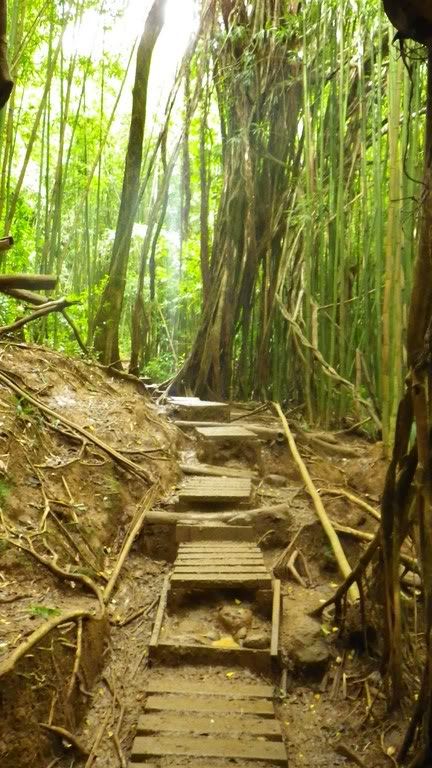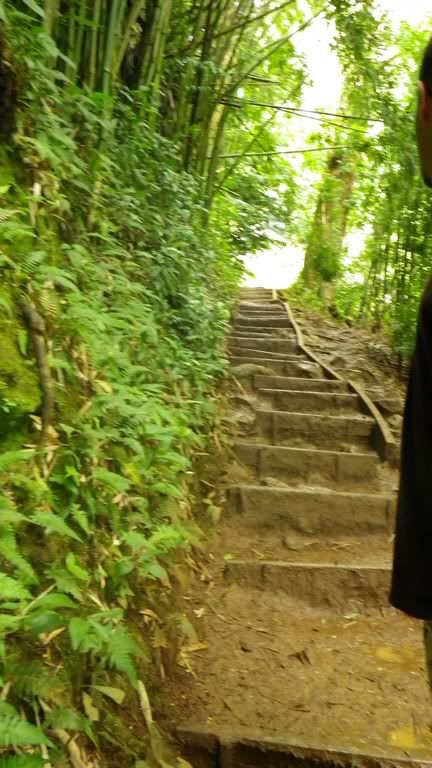 The entire trail was worth it though (if you are into plants, bamboo, and trees) and pretty fulfilling at the end when you finally reached the waterfall.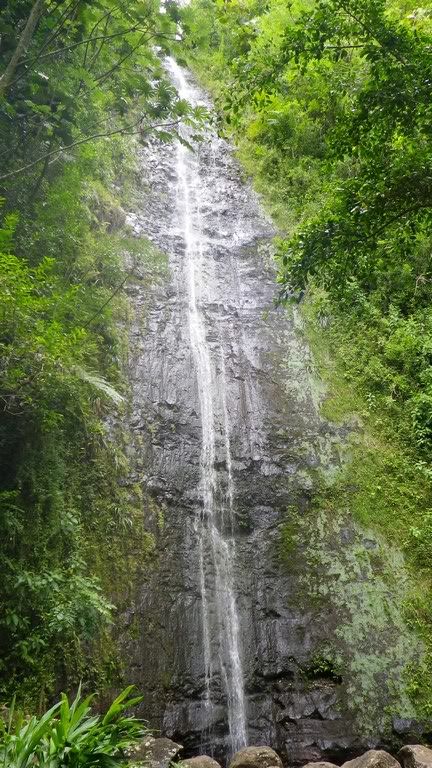 Unlike Diamond Head though, where going down was easier than going up, Mano seemed more difficult to go down to me (as, like I said, some steps I would have to jump down, and some rocks I'd have to jump down).  It was still fun though.  I was glad we saved it until the end of our day though, as we did end up covered in mud from the knees down!
We went right back to Aulani to shower and then we headed to the pool to relax.
Wailana Quiet Pool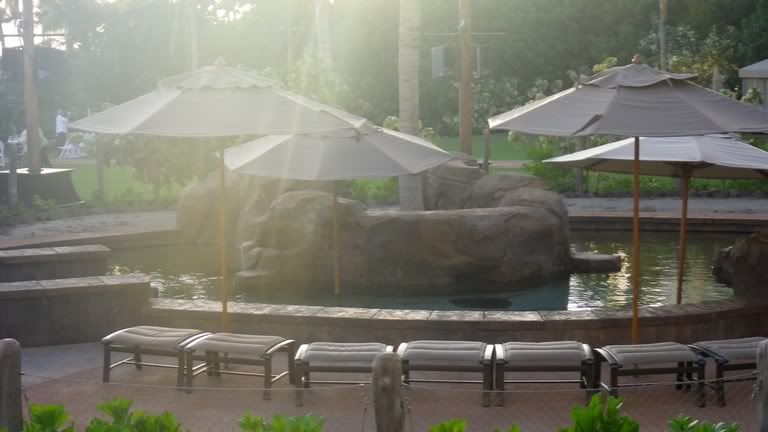 Makai Preserve (Manta Rays)
Then we went to the tiered hot tub to watch the sunset (after we got our wristbands, of course).  There were a decent amount of people around watching the sunset, but I wouldn't call it crowded (it was just more people than I had seen in once place at one time at Aulani).  The sunset really was beautiful to watch, and the view in the hot tub was great!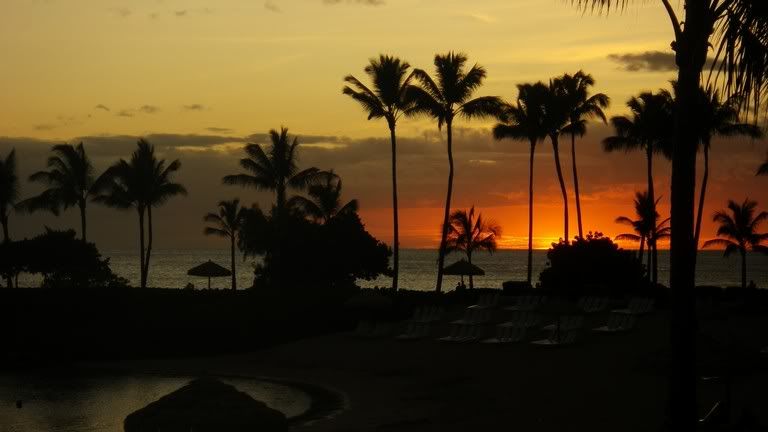 Aulani Sunset
We finished our night by taking a spin on the water slide,  floating the lazy river, and checking out the fire before we headed off to bed.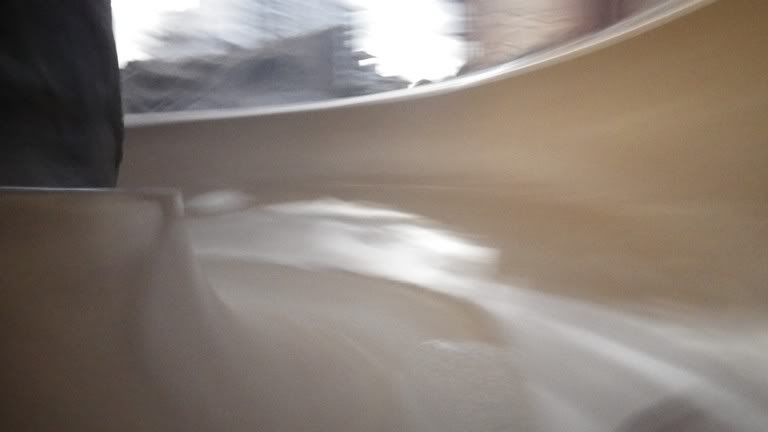 Whoo – waterslide photos didn't come out so well!
Up Next:  Laniwai Spa and Paradise Cove Luau
*DH realized that our studio was different than what was pictured in the floor plan we'd seen online.  The floor plan showed the balcony at an angle off the room, but the first two buildings of the resort actually have their balcony facing straight on.  It wasn't a big deal, we just found it interesting.  One explanation (besides the simple fact that there are 2 versions of the studio and they didn't release both in the publications) is that our room did have an indoor door on it that would have lead to the next room over (making it a 2-bedroom lock off).
**Next time I would make sure to pack sandwiches for lunch and a cooler with cold drinks.  There were plenty of little state parks with restrooms (it was only the botanical garden crater that didn't have them).  We had a bit of a feeling of being rushed because of hunger, so food would have made the day better.  Also towels or beach mats that would have allowed us to sit on the beach and relax before going back to the resort!
Day 4 (Tuesday):  Spa and Luau
We were woken up shortly after falling asleep last night by the smoke alarm going off!  No sooner had I convinced DH it was a smoke alarm and opened the door to the hall (where I heard other smoke alarms going off) than it stopped.  DH called the front desk and they didn't know anything about it.  I thought I might have smelled burning from the next room over (when we went on the porch it smelled like burned toast and they had their porch door open – we could hear them inside) so we convinced ourselves that it was just a small kitchen mishap and went back to bed.
We slept in till 6:30 today!  We were going to go to the morning stretch class, but decided we'd rather take our time and wake up slow with our coffee and tea (and cereal) on the balcony.  At 8:45 we headed to the spa and were seated to wait for our spa guide.  When she arrived she presented us with the basket of stones that have an English word on one side and it's Hawaiian translation on the other.  We both ended up with the same word ("Strength") and we were told to hold the word in our heart and return the rock to the water in the small pool in the entryway to the spa.
The lockers have pin pads on them for you to enter your own code to lock them!  Hit "C", then your 4 digits, then the key to lock it!  They are the same in the Luana lounge.
Then the spa attendants took over our individual tours (men and women's change rooms, shower, hot and cold sauna).  They each mixed us our own body scrub (I got the plumeria with rose petals – it smelled so good!) and let us change into our swimsuits so we could enjoy the hydrotherapy area before our massage.
The mixing station where they made our body scrub
I was a little surprised at how small the area was – I was expecting much bigger.  Of course, there was no one else using it the whole hour we were out there, so I guess the size didn't matter.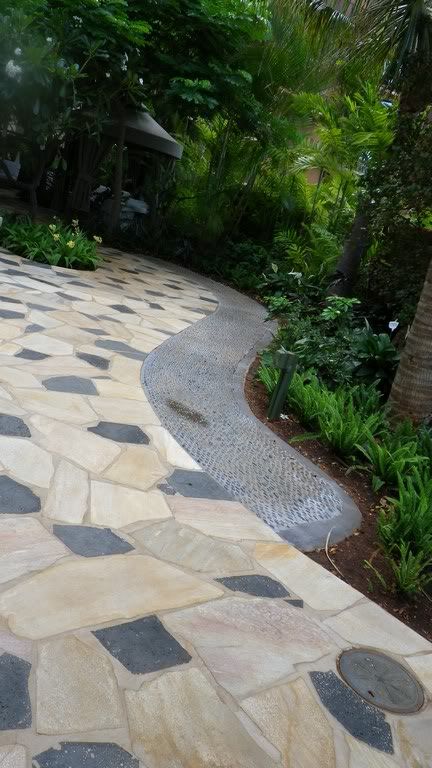 The walking reflexology path – shorter than I'd imagined, but no matter because I could do as many laps as I wanted since no one was waiting to use it!   It reminded me of walking barefoot on my parent's gravel driveway, who knew I grew up with such a great reflexology tool 😉
There were two hydrotherapy pools (one green for detoxification) and we tried the blue one (for relaxation) – it was heavenly.  I wished that I'd brought my book to read, as it was just as relaxing as taking a bath in nice smelling salts at home!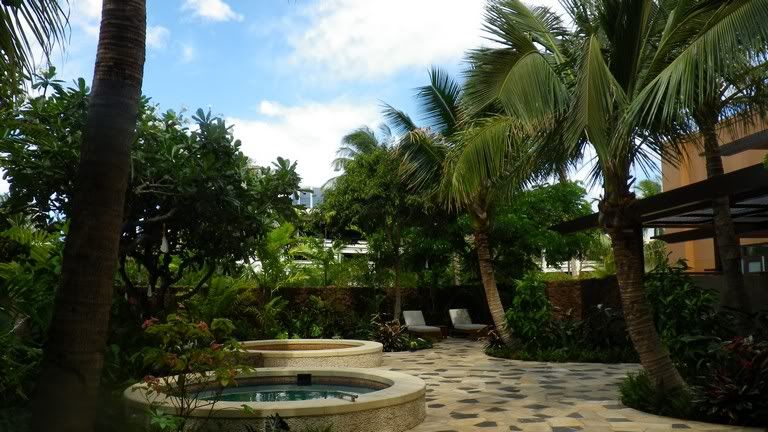 Two hydrotherapy pools
Next we tried the rain showers.  The motion sensors were difficult to use.  We even asked if there was a trick to turning them on but we were told you have to move forward, back, side to side, up and down, to try to get the right spot to activate them.  There was one that we could never get to turn on, and another only turned on once.  DH was doing silly dances (he called them his rain dances) to try to activate them (it usually worked).  The ones that did work were really enjoyable (some showered down, some up, some higher pressure, some soft), and we would have spent more time there if it wasn't so much effort moving from one to another.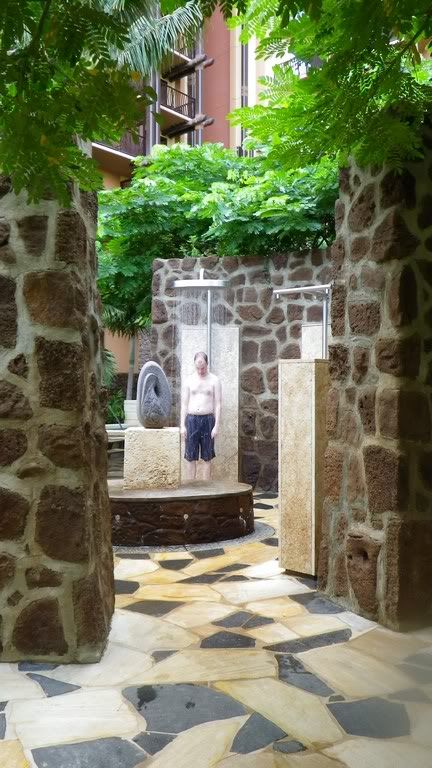 DH enjoying a working rain shower
Next we did the hot tub / cold shock (good for circulation).  I'd never done that before!  You go from hot to cold back to hot and your body tingles – which is a good sign for your circulation.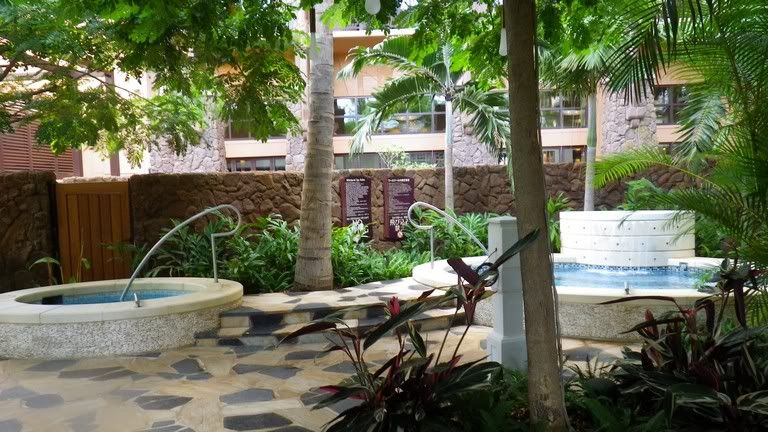 Go from one temp to the other (or don't, if it's not your thing)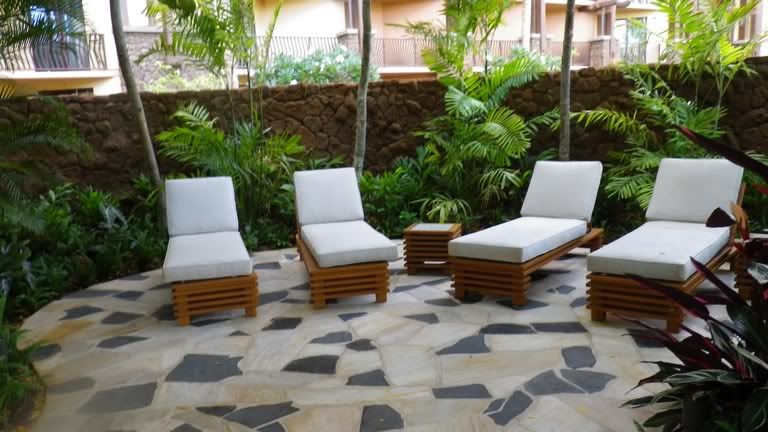 Relaxing Area outside (I did not get a shot of the indoor relaxation room, as there were some people in it)
Outdoor massage table (ours was indoor, we weren't given a choice)
Then we were given our 10 minutes notice and changed from our wet clothes for our massages.  We sat in the relaxation room and were served hot tea and given hot shoulder pads and face masks.  Then we were greeted by our massage therapists.  They were great!  The Honi Honi was definitely worth it.  They gave you music to choose from (and we got some lessons on Hawaii to go along with each music choice) and a choice on what massage body butter you wanted.  It was DH's first massage and now he's deffinately hooked!
After the massage DH stayed in the relaxation room and I went to get my eyebrows waxed.  The esthetician was really good.  After that I showered at the spa and did my hair (they have everything there for you to get ready for the day) and left DH in the green pool while I went back to the room.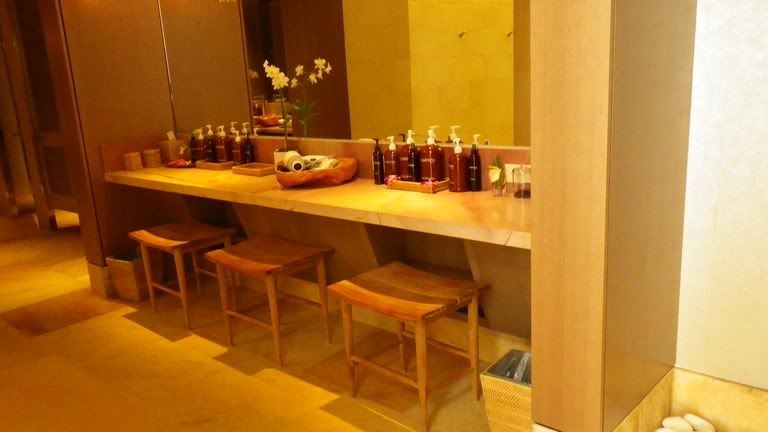 Blow dryers, hair spray, cotton balls, Q-tips, etc
I needed to check in for our Adventures by Disney Excursions and pick up our voucher tickets, so I stopped by the Holoholo Desk, which is a really formal looking room.  I was a little intimidated to go in (it looked like somewhere you would sign bank loans instead of sign up for surfing).  When DH returned we left to go find food.  It took us forever to find One Paddle Two Paddle (the quick service food place)!  It's to the left of Aunty's Beach house (before Ama Ama, it's right beside it actually, but down a dead end (for now) path).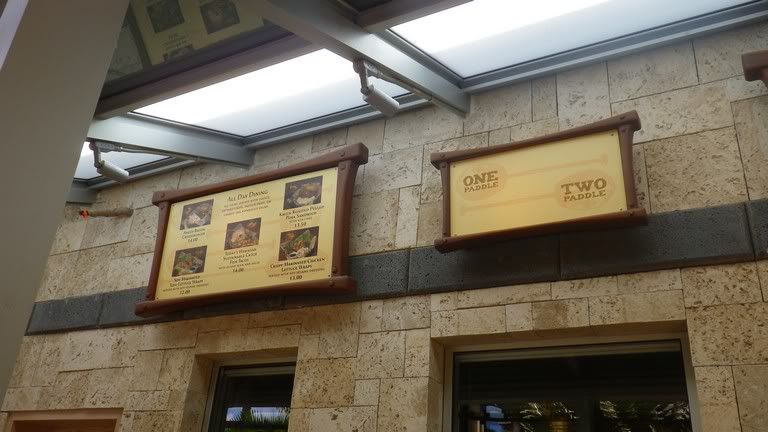 One Paddle, Two Paddle
DH could hardly decide on what he wanted to eat, it all looked so good to him.  I got an Angus Cheeseburger with regular fries (it was pretty plain):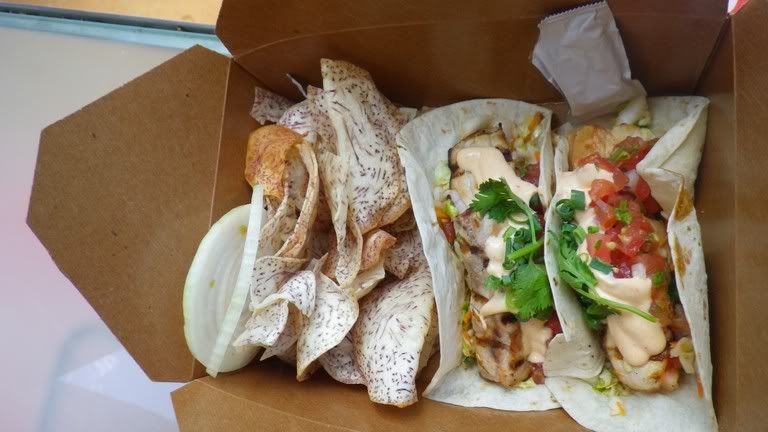 DH got the fish tacos of the day with Taro Chips and he LOVED them.
I wasn't sure where we were supposed to eat though, there didn't seem to be specific seating for One Paddle Two Paddle, so we sat at an umbrella table at Off the Hook (where they do poolside dining) and no one asked us to move so I guess that was okay.  Afterwards we went to Community Hall and watched "Incredibles" while we waited for the Lei making class to start.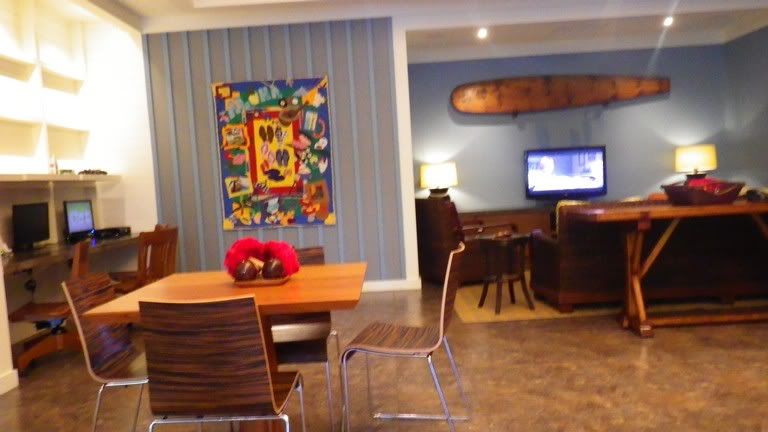 Community Hall, aka Pau Hana Room
The girls doing the class were excellent.  They showed all the different ways to string the flowers, and gave ideas on how to make them.  DH made a quick one and then was given the idea to string the loose petals into a bracelet.
I can't speak highly enough for Janelle that works there, she was an extra-needed Disney magic pick-me-up (she even gave us kukui nut bracelet kits, since we were going to have to miss out on those classes).
Menehune were often decorated with leis.  Janelle told us not to throw our leis in the garbage – that everything needed to "go back to nature" so once we were done with our leis we should take any man-made part off (such as the string) and then set them back to the earth or to the water.
Since we were told that the Menehune Adventure Trail was still not being handed out (as it wasn't working properly) we went back to the room then for some down time (we were still pretty exhausted from the hikes the day before, not to mention the massages in the morning, lol).  We checked our e-mail (on the free wi-fi), watched the DVC channel, and read a bit before we started getting ready to go to the Paradise Cove Luau.
Paradise cove is two hotels down from Aulani, towards the entrance gates (so leave Aulani, pass the Mariott, and you'll see parking and then the Paradise Cove Box Office sign – you can't miss it from the sidewalk).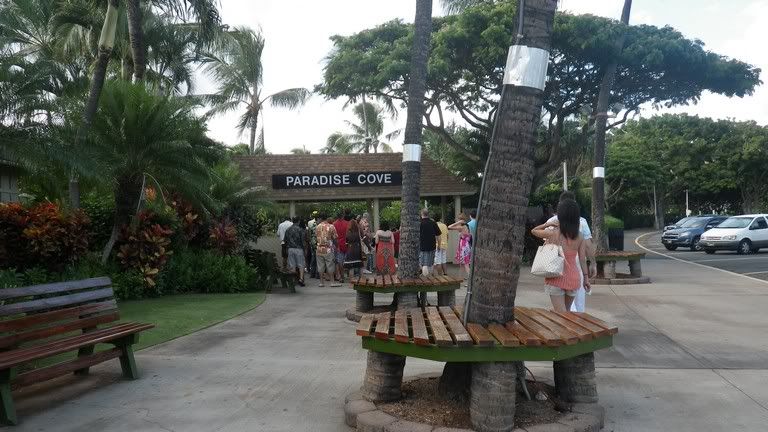 They let you in at 5 and as you enter you get one complimentary (alcoholic or non) fruity beverage.
Before they seat you they take your photo with a guy and girl from the show (you can pick up your photo for $15 at the end of the show as you exit).  Then they take you to your seats, where they write down your name so they are assigned to you, and then you are left to wander around.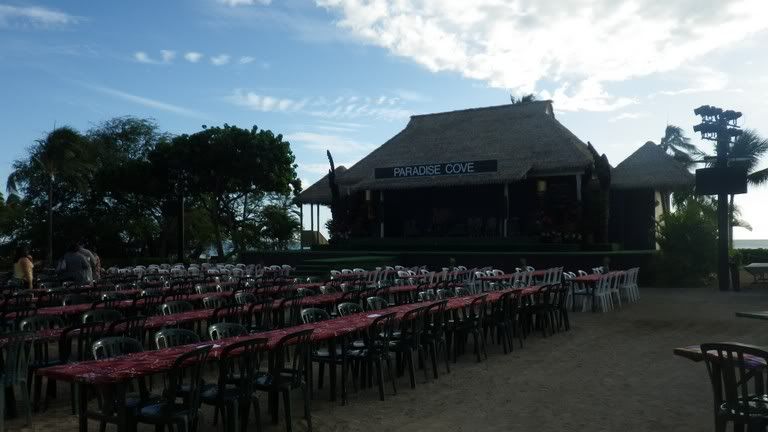 Seating area
There are booths selling lots of cool souvenirs (one booth offered plain jewellery that he could personalize with your requested Hawaiian name) and pre-show attractions (like hula lessons, how to open a coconut, and hukilau) and games (rock rolling and spear throwing).
Kayaking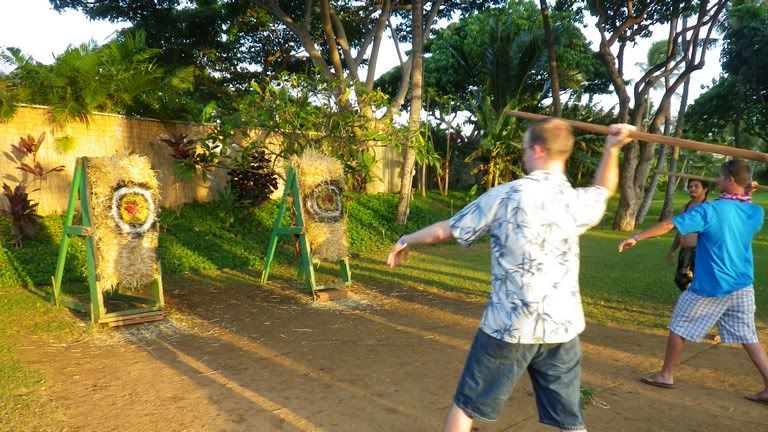 Spear throwing
You can go up to the bar and get your drinks or you can sit at your table and there is wait staff to take your order.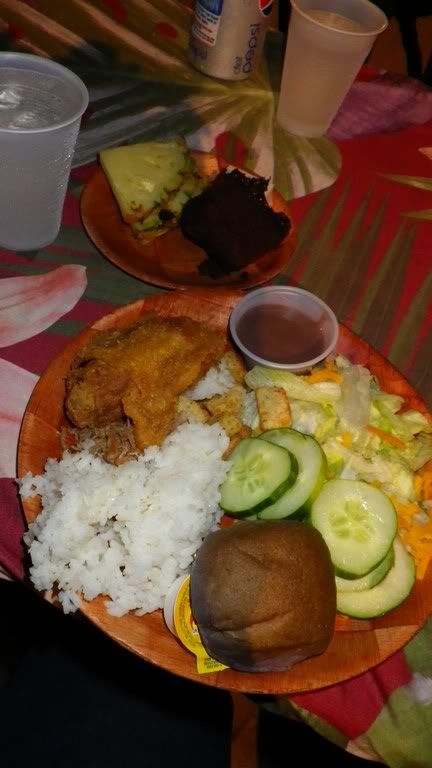 Food
We were there at 5 and I think it was between 7 or 7:30 before they started serving the food / letting people go up for the buffet.  Then there was more activity on stage while we ate, and the real show started at about 8:15.  It was a lot of fun to watch – hula dancing (with the audience invited up), a comedy host and singer, fire spinning, dancing – pretty much everything you'd want to see.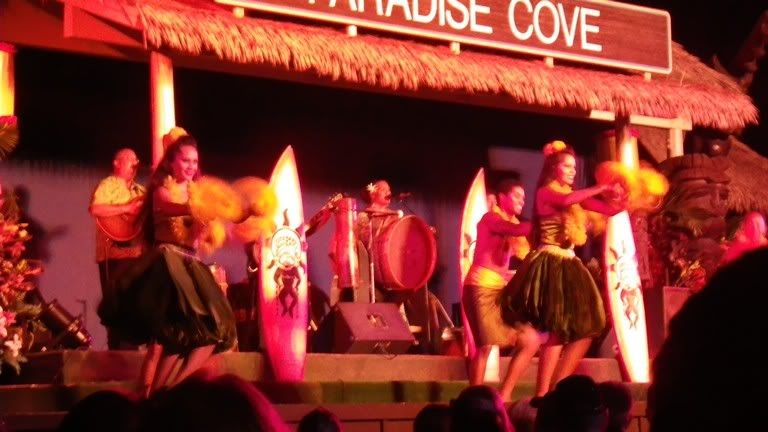 Dancing
Fire Spining
It was a nice walk back to Aulani (I had gotten cold durring the show, but it was ok walking back).  Getting back around 9 the lobby was empty!  We got our daily IWA and headed back up for the night.  This was the latest we'd been up all vacation!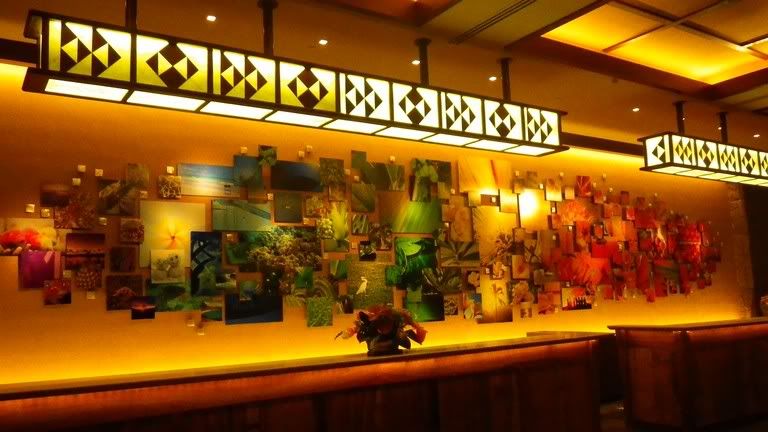 The empty lobby, and beautiful collage
Day 5 (Wednesday):  Surf School and Shopping / Waikiki
We actually had to set the alarm today for 6am to make sure we were up and ready for our excursion (since we were sleeping in later)!  We woke up for another morning of breakfast on the balcony, watching the cast members prepare the resort for the day and watching the waves slowly roll into the cove.  We had our cereal (multi grain cheerios for me, oatmeal for him) and coffee (for me, tea for him) as usual, then put on our bathing suits and sunscreened up.
We met the Adventures by Disney staff in the lobby at quarter to 8 and he told us we were still waiting on some people.  We ended up waiting until around 8:20 (20 mins after we were scheduled to go) and the last family still hadn't shown up (they were later driven to the location by an Aulani van when they did show up).  I'm not sure if this actually cut into our surf time or not, but they assured us we would get all of our water time (we ended up back at the hotel at 11:30 instead of 11, so maybe we just got it all pushed back, or maybe we were always supposed to be back at 11:30, even though the info said 11).  Anyway, we were met at the resort by a Hawaii Fire van, driver, and translator.  We all packed in and on the short ride (about 10 mins from the resort) our ABD guide told us stories about when Disney made a Hawaii PR movie and the characters learned to surf (and Goofy kept falling off until he switched to his right foot in front, which is why surfers now refer to right foot in front as the "Goofy Stance") and the Hawaii Fire instructor / translator girl told us about the buildings we were passing (such as the old Air Force Base, which is now used by the coastguard).
We arrived at the beach, which was well off the road (through a wooded camp area) and the other Hawaii Fire guys instructed us to pick a rash guard and pair of water boots from the bags of different sizes they had lined up for us.  It was at this point I found out how… unpleasant… the bathrooms were at this little secluded beach!  No TP in all but one stall, and only one stall (a different one) actually locked (and I won't go any further into that)!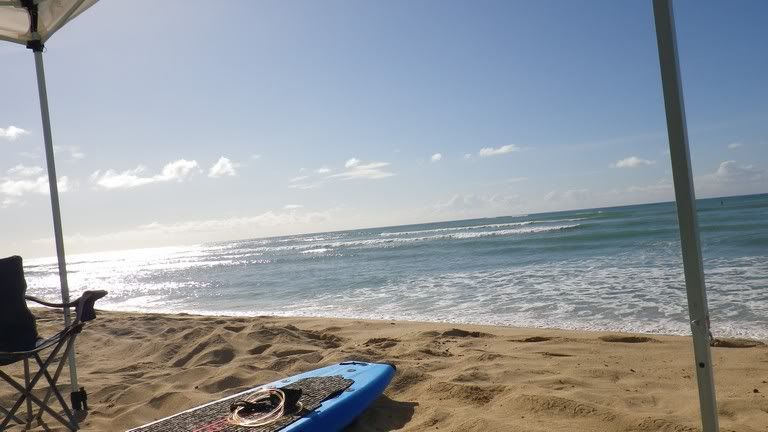 After changing into rash guards we sat down in beach chairs under a big tent/umbrella and our ABD guide pointed out the landmarks around us (Diamond head and Waikiki could be seen in the distance), then one instructor told us the history of the beach ("Officer's Beach" or "Long Beach" as it's one of the longest beaches in Hawaii).
Diamond Head and Waikiki
Then another instructor came and talked safety (don't surf all the way to the sand, bail off if you're aiming towards someone, don't shuffle your feet over the corral) and then the last one came and talked technique (Positioning:  making sure you stay on the back 3/4 of your board and keep your weight evenly distributed right/left;  Paddling:  one arm swim stroke forward, both arms swim back, "windshield wipers" to turn;  paddling fast and then leaning up when you are close to white water, and then standing up on the board after the instructor gives you a push and you paddle 4 times).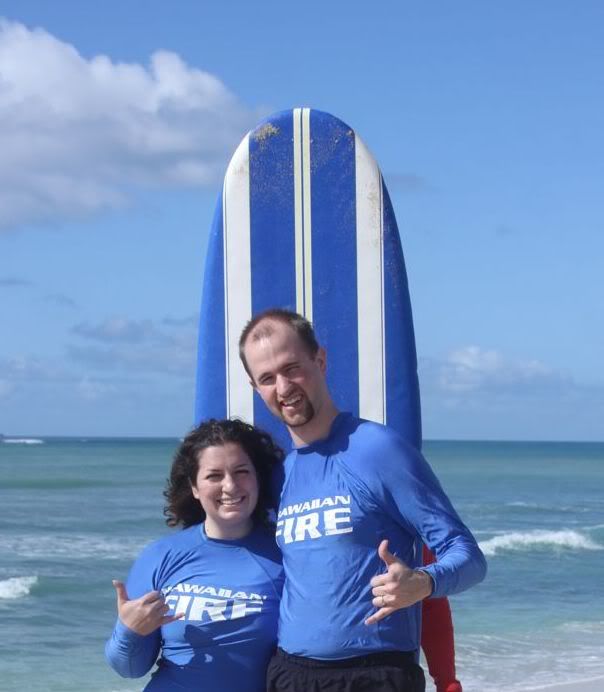 The Hawaii Fire photographer took some pictures of the groups, then we picked/got matched to boards and practiced standing, and then they told us to strap on the ankle tie and get on out there!
The instructors all went further out on the sandbar, and one stayed behind  so we knew how far to walk before getting on our board to then paddle out to the other instructors.  When we got to them we turned the board around and they held us in place until a good wave came and then they'd tell us to start paddling, they'd give us a push, and they'd say "Paddle, paddle, paddle, paddle, now up!  All the way up!  You can do it!"  They were so friendly and encouraging!  Then we'd get to where we were supposed to hop off (before the shore) or else fall off, and then we'd turn around, get back to them, and wait our turn to go again!  It was exhilarating, but after awhile it was exhausting!  DH and I ended up mostly walking back to the instructors because after so long it gets really hard on your arms to keep paddling against the waves and wind lol.
DH and I getting up on our boards
Towards the end (many of our classmates had taken it in already) the instructors told us to look on shore, and a monk seal had made his way up to the beach to sunbathe!  They told us it was really rare (as they are critically endangered, with only about 1,000 left in the world) and we should probably get a picture, so we decided to take it in and grab pics of this awesome animal.  DH was even lucky to catch a wave on his own (with the instructor only coaching, not pushing too) to take him to shore!
He nuzzled his head in the sand to make a pillow then flipped over to sun his belly!
We went to see the seal, and then we went back and turned in our rash guard and boots and the ABD guide (Eki) gave us granola bars and cold water.  Hawaii Fire had a photographer that had a slideshow going of all the photos he took (they were all pretty awesome) and they had a CD available or we could go to a website to purchase singles (DH and I got the CD, which they ship for us unless we wanted to stop in their shop in town to pick it up – although one guy had a USB stick and so he got the pics all right there and didn't have to pay for shipping).  Then we all packed into the van and headed back to Aulani.
By now DH and I are exhausted, so we took showers and order Private Dining.  DH got a salad and fish, which he really enjoyed (big surprise there), and I got the kids meal grilled chicken strips, which (along with the fries that came with it) was so delicious and satisfying (the kiddie Hawaiian chocoalate cake was pretty average, not much special about it, just chocolate cake).  I also tried the Mac and Cheese and peas, but it was really plain (not Disney World Mac and Cheese).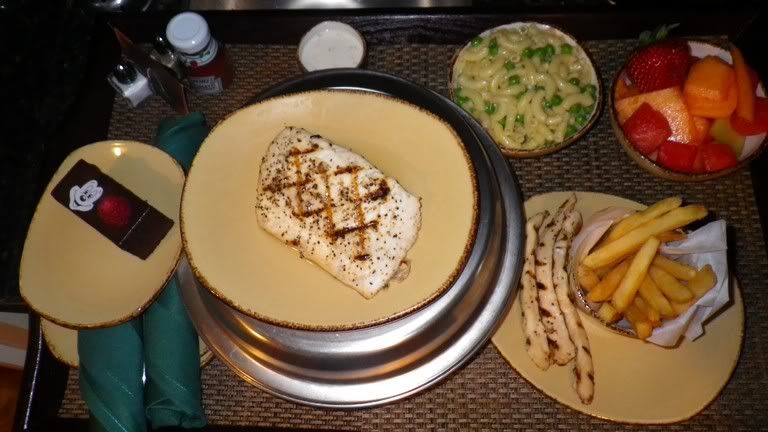 DH went to refills our mugs so we can have soda with our lunch.  We stay in the hotel room for much of the afternoon, laying and resting after so much activity.   I finish "The Help" (awesome book) and we watch "Jessie" on the Disney Channel and then "Extreme Couponing" on whatever channel that comes on.  Finally we headed out, and walked around the resort, taking pictures of flowers and menehune.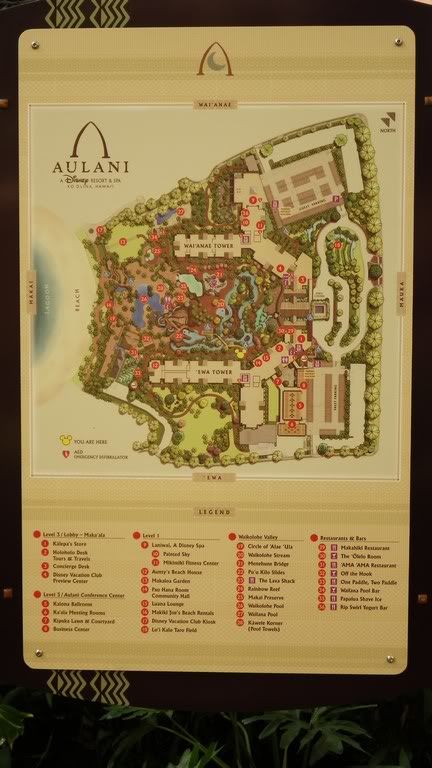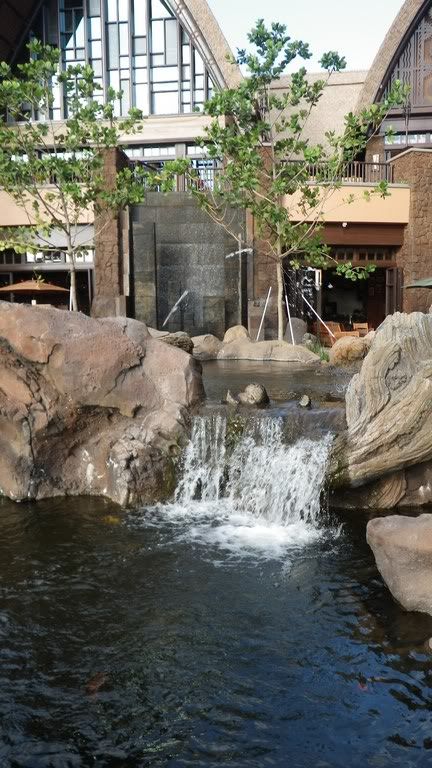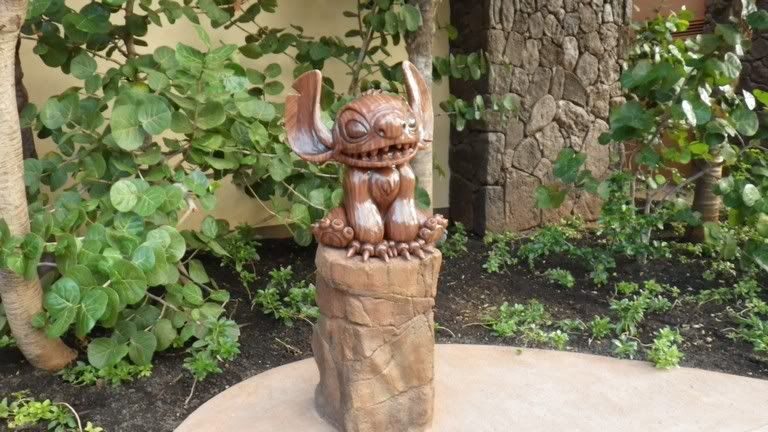 And Stitch!
We visit the Oleo room (to learn some Hawaiian words), and then get a wonderful tour of the amazing Aunty's beach house.  The workers inside are so happy and friendly and they give us a beautiful tour (they said as members and guests we were able to sign in as visitors and hand in our room keys for visitors badges at the front and walk around ourselves without an official tour).  Everyone has to wash their hands when they enter to keep down the spread of germs, and we had to agree not to take pictures of any kids (so for privacy sake we didn't really get any pictures inside to share).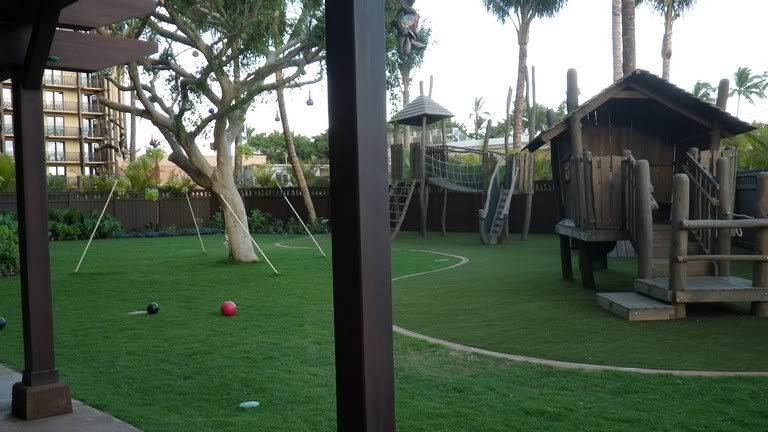 Outside play area
It is a really impressive set up they have in there, I have to say the pics I've seen don't really do it justice.  There is so much Disney Magic, and the cast members there were superb.  It really looked like one of the places around Aulani that I don't think they could possibly have any more improvements in store for phase 2 or 3 – it looks complete and polished and amazing.  One cast member, who was playing the ukelele in the entryway, walked us down the hall and told us about all the pictures and history of Hawaii that was featured in the hall, and then showed us all of Uncle's sitting room, garage, and TV room.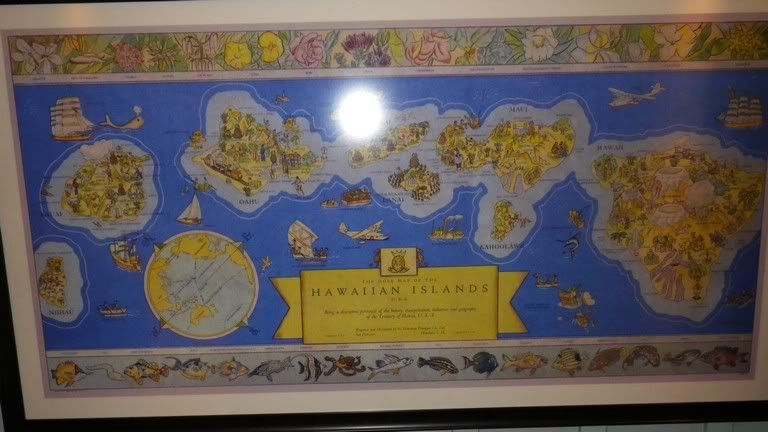 Map in the hallway
He was really awesome, and he went out of his way to give us more suggestions on things to do around the island.  On our way out we heard a girl complaining about leaving to her mom, which was so funny because the cast members had told us that often times the parents check in on the kids and the kids don't want to leave!  If we had kids in our family to take with us I wouldn't hesitate to leave them in the capable hands of the staff at Aunty's, and I know they would have tons to do because there were just so many games and activities to participate in!
We went to watch the sunset by the firepit (which wasn't going at the time – we had just missed the fireside storytelling).  Around 6 live music started to play (sunset was set for 6:15ish that day).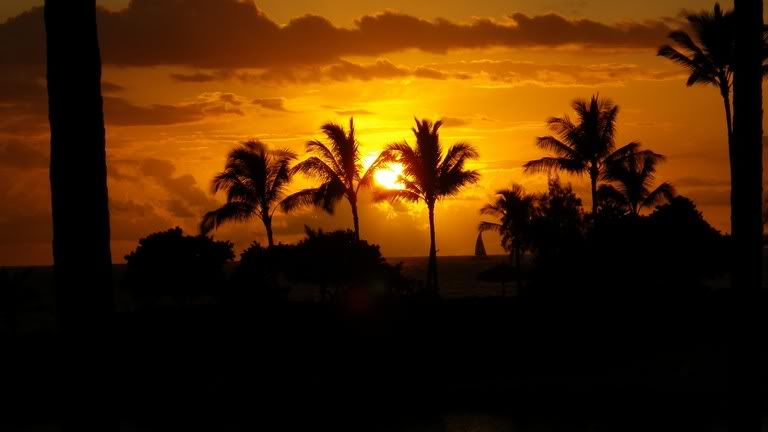 I got some pictures, and we saw a little mongoose (someone called them "Hawaiian Squirrels").
We ended up eating at One Paddle 2 paddle again, but this time we took our food to the room and we watched some TV (Phinneas and Ferb).
We closed out the night watching "Up" on our balcony from the big screen at the family movie night.  We could barely hear the words, but it was pretty cool to see it in the distance.  There was also live music playing right below us at the same time.  That night we were in for a good night's sleep for sure, after all that paddle and surf action (we crashed by 8:30)!
Day 6 (Thursday) Part 1:  Kuaola Ranch Adventures by Disney Excursion
Since this is our last day of adventures I'll make this a 2-parter and post double the pics.  Winding down the trip report is almost as sad as winding down the trip was!
We had quite some time today to hang out at the resort before having to meet up with our Adventures by Disney group.  We had breakfast on the balcony again and just took the time to relax!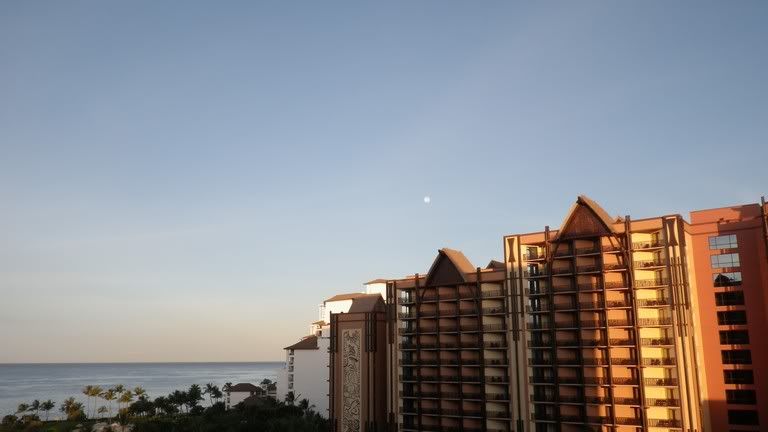 Our View
Mickey and Minnie as seen from our balcony (and zoomed in on)
At quarter to 11 we headed down to the lobby to meet our group for the excursion.  We found out we would be swimming so we headed back up to grab our swim suits and reading materials (we didn't realize the excursion included beach time for swimming or bumming).  While loading the bus each of us got a towel, granola bar or trail mix bag, and bottle of water.  There were around 13 people on the bus (not including driver or ABD guide, Eki).  Once we headed out we were almost instantly caught in traffic.  They let us know the traffic was not expected, but both Shannon (our driver) and Eki kept us entertained for the whole 90+mins (when it should have been 45) we were on the bus.  We all introduced ourselves (almost all of the couples on the bus were celebrating an anniversary, and there was one newlywed couple), Eki taught us a song, and Shannon told stories non-stop (explaining the history of the area, and the history of the Hawaiian people).  I thought I would need my book to read, but there wasn't a dull moment!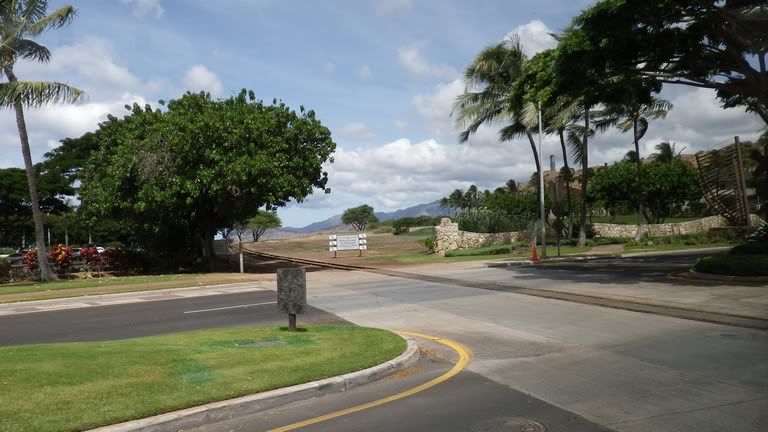 Train Tracks at the entrance of Ko Olina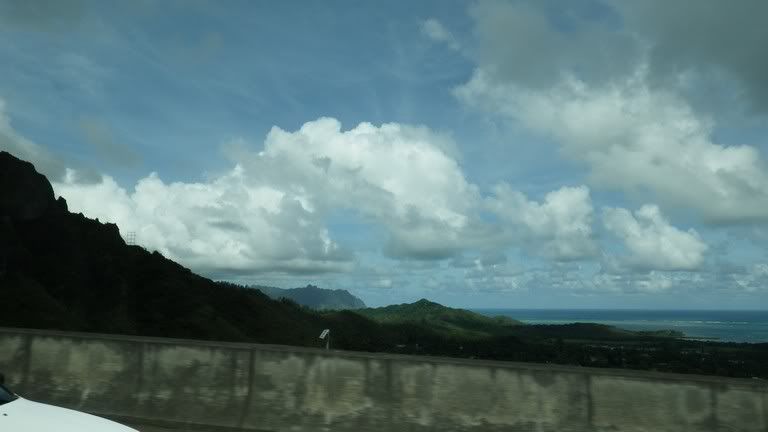 The view on the trip to Kualoa Ranch
Once we got to Kualoa Ranch we were taken directly to the boat that would take us to the "secret beach" across a 500 year old fish lake.
We made a pit stop at the only restrooms available:  four outhouses perched on a pier!  Then we walked down the path to the beach (there were changing rooms available to put on swimsuits).  The staff from Kualoa Ranch had the food already ready for us (probably since we were so late in getting there) – rice, teriyake chicken and beef, corn on the cob, salad, and pineapple.  DH LOVED it and said it was the best food of the trip.  There was lots of other things to do on the beach after eating – swimming, taking pictures, relaxing in the hammock, playing beach volleyball, using snorkel gear, or sitting on one of the available mats or at one of the picnic tables to read (DH took a hammock, I sat at a picnic table and read).  There was another group at the beach at the same time, but altogether it was pretty quiet.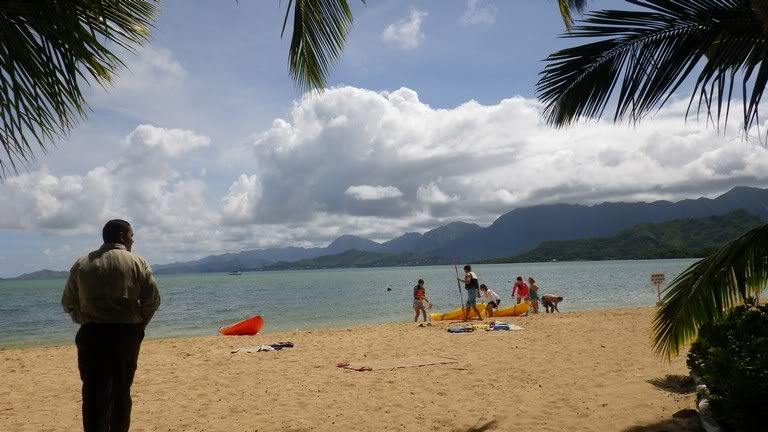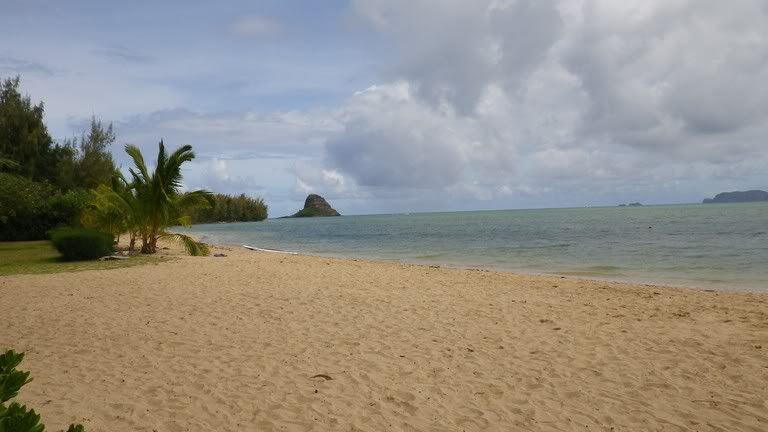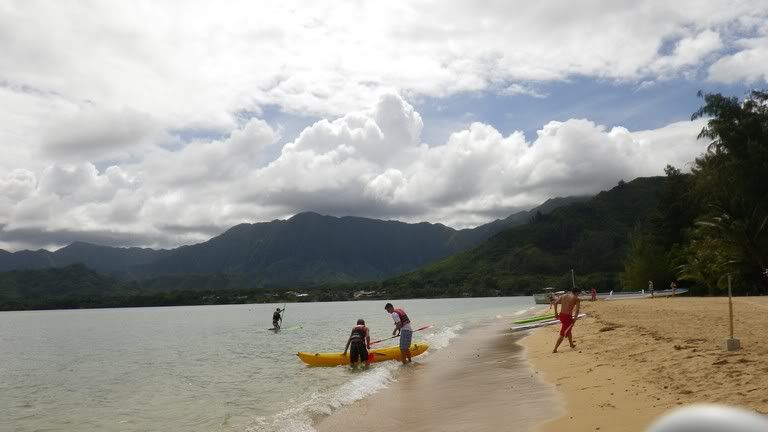 After awhile it was time for our catamaran ride – the boat was bigger than I expected (and staffed by a cute little long-haired dachshund-looking dog named Chibi!), but I thought it was lots of fun (especially hitting the waves and getting bumped around, but some others didn't like that so much) and the pictures once we were out there were pretty awesome.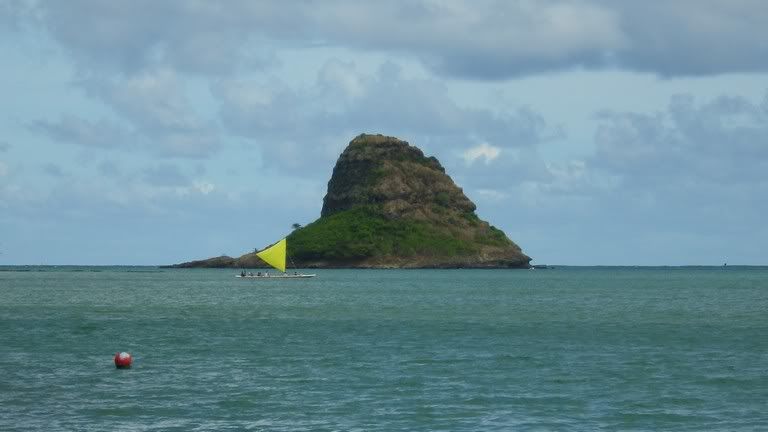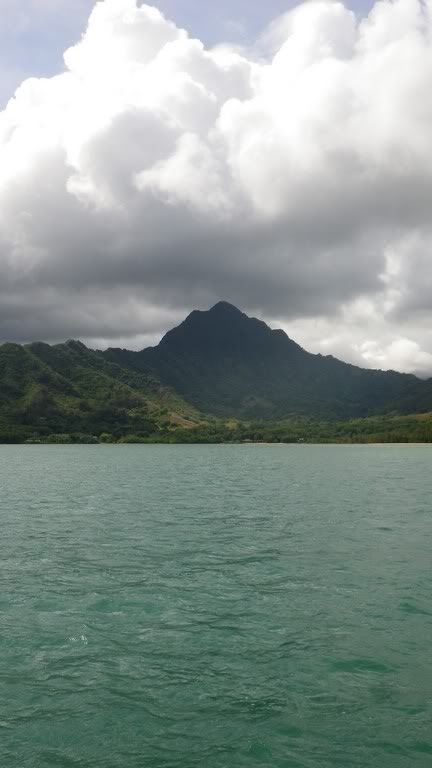 Then we rode to another area which they called "turtle sanctuary" and we kind of saw one turtle off in the distance (which made DH and I really glad that we had already went to turtle beach to see turtles up close) and then we went back to the beach.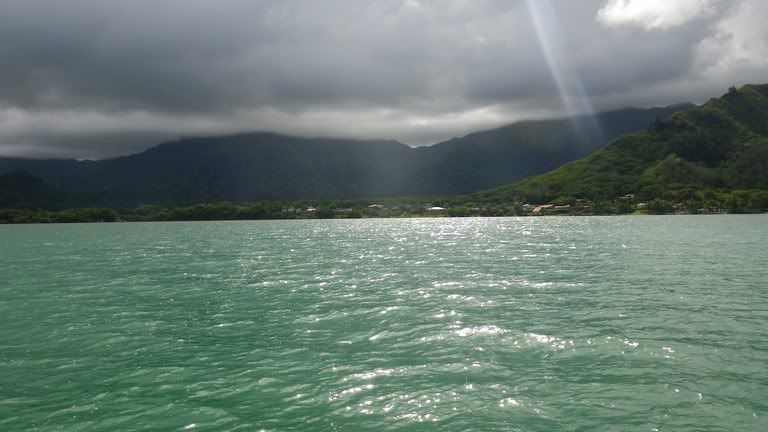 Turtle sanctuary (and a turtle in there somewhere)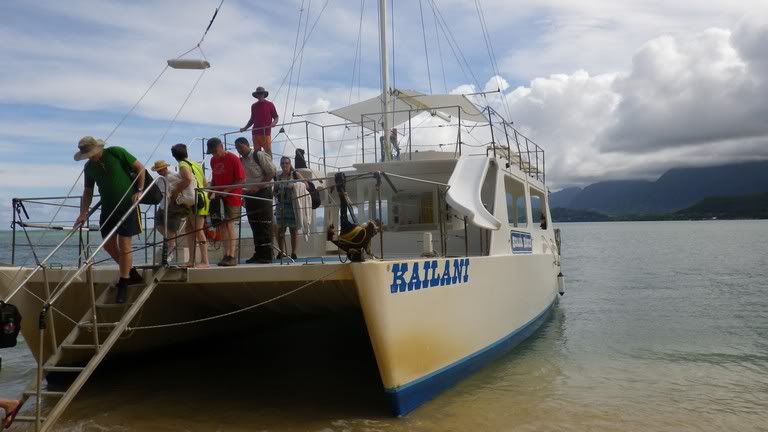 Exiting the catamaran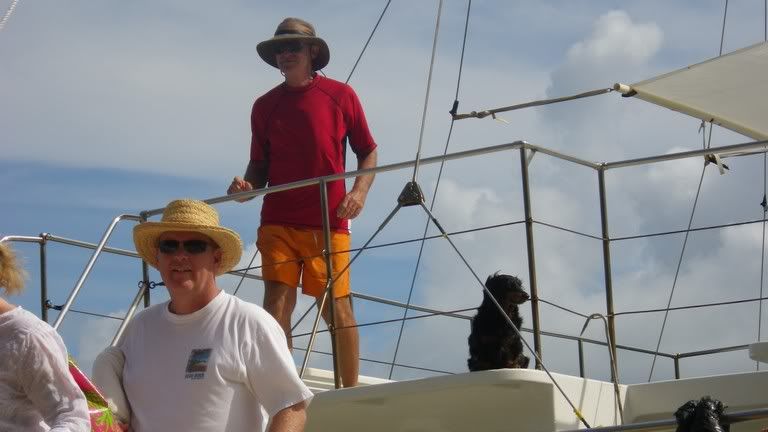 The Captain and Chibi
We had a little more time to play on the beach before it was time to take the first boat back over the fish pond, where we boarded our bus and got taken to the Ranch area.
In tomorrow's instalment:  Day 6 Part 2:  Kualoa Ranch Horseback Riding and Aulani's Starlight Hui
Day 6 (Thursday) Part 2:  Kuaola Ranch Horseback Riding and Aulani's Starlight Hui
We left off in the last entry of this TR with some frolicking at the Secret Beach and a Catamaran trip.  We took our bus on a short jaunt over to the Kualoa Ranch Horse Facility, where we all used the better facilities (better than the pier outhouses), and then we had to then sign more wavers, get safety instructions, and get called up to hop on our horses!
The horseback riding was a 2-hour trip (which I did not realize when we signed up).  After the first hour it did start to get a bit uncomfortable, but the view was pretty amazing and it was one of those "once in a lifetime" things.  As someone who grew up on a horse ranch (although in my adult years I barely ride anymore) I had never had the opportunity to enjoy so much natural beauty on horseback before.  The horses were all very well trained and traveled, and our guides were very nice and good at giving information on the Island, Kualoa Ranch, and the movies that were filmed in the area.  We got to see the backdrops for movies such as "George of the Jungle," "Pearl Harbor," "Godzilla," "Jurassic Park" and "50 First Dates," as well as the TV show "Lost!"  It was pretty cool (and once we were home we re-watched some of those movies to see the backdrops we recognized)!  If anyone is nervous about riding I'll mention that DH has only been on a horse once, and for barely 5 minutes and he was completely comfortable for the entire trip.  I found some of the rocky and dirt paths a little unnerving when the horses had to go down or up steep slopes, and I was also a bit unsure when the ATVs were passing us, but the horses didn't even blink at any of that (unlike some of the horses I grew up training and riding lol).
Our horseback tour took the orange path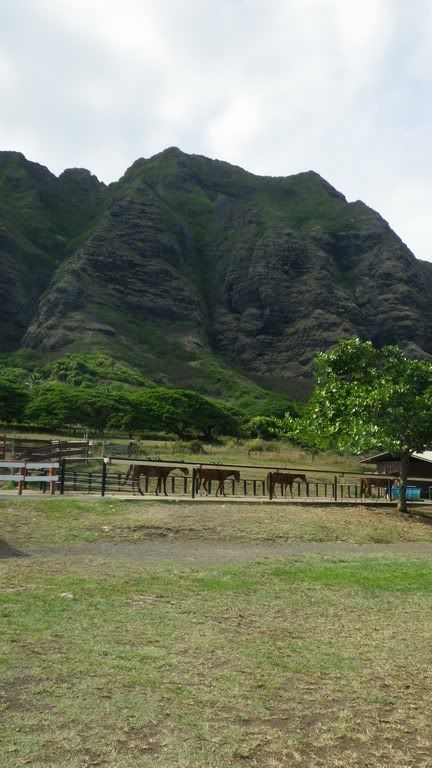 Our horses, saddled up and ready to go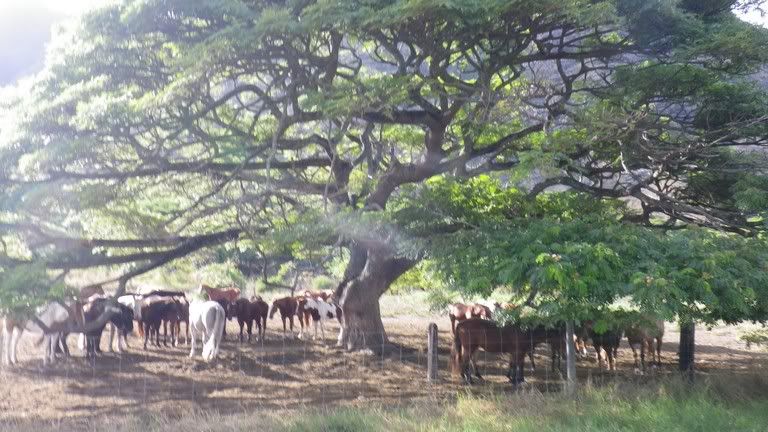 Horses that had already been on a 2-hour tour for the day.  We were told that they get horses from Calgary that are at least 10-year-old geldings who have plenty of trail experience.  They were all very good riding horses!
Ocean View on the ride
Our guide pointing things out for us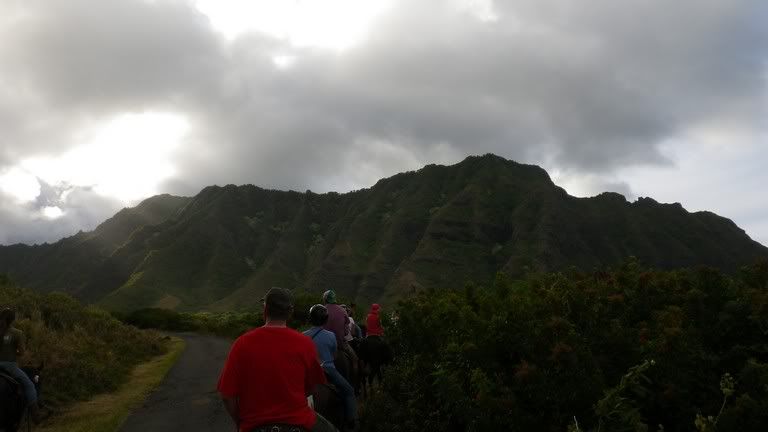 Heading towards the "Jurrasic Park" log – "The most famous dead tree on Oahu" where a bus tour group was out taking pictures (the horse tour did not stop to allow people to hop down and take photos).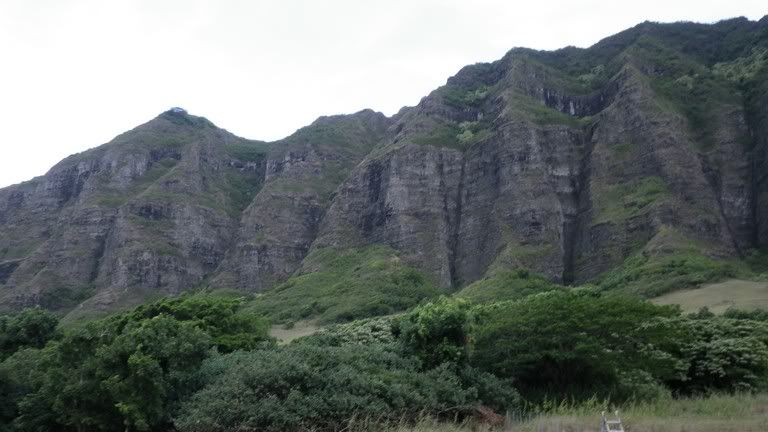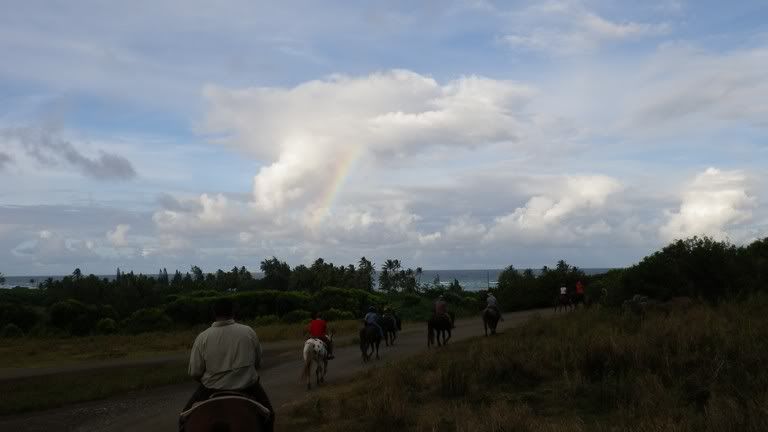 Rainbow!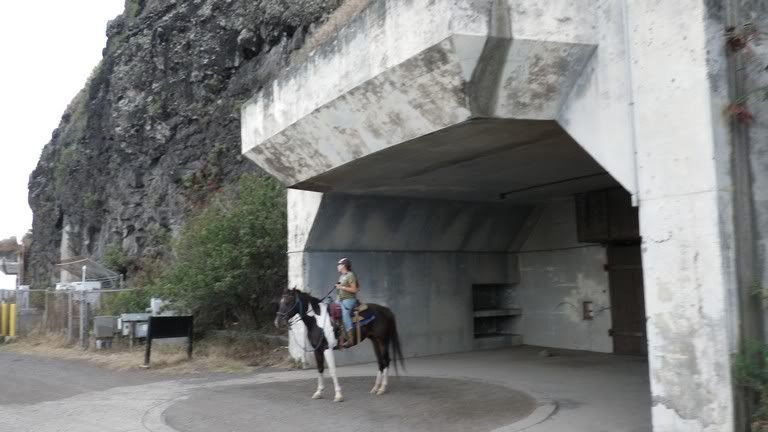 WWII bunker, also used in the "Pearl Harbor" movie
 Ocean view on the way back to the ranch.
We got a bit of time to shop in the gift shop, but the food service was closed so we were hungry on the ride home (good thing for that granola bar we got when we first got on the bus)!  Luckily our great driver Shannon kept us so entertained we forgot about how hungry we were.  Someone requested info about Pearl Harbor / WWII and he happily obliged.
Shannon and Eki got us back to the resort in time for the Starlight Hui.  This was probably my Disney Highlight of the vacation.  As I briefly glossed over before, Aulani is wonderful, and it does have some Disney Magic (in how well done the resort is, in the great cast members, in the cute menehune hidden all over, etc) but does take some getting used to if you expected Disney compared to one of their cruises (for example).  Some days I found myself wanting to catch that feeling you get when you step onto the monorail in Disney World, lol!  I'm not saying I would actually change anything about Aulani – but I guess somewhere in me the word "Disney" has a strong association with very certain "Disney" things (like the monorail) and I just had to get used to this new experience!  Anyway, my point of stating all that here (instead of in my conclusion) is that the Starlight Hui was so beautiful and well-done that it gave me that Disney fill (and I mean that even before Mickey made his appearance).  It was breathtakingly beautiful, every second of it.  I love shows at Disney World such as "Festival of the Lion King" – shows that are wonderfully choreographed with great music and storytelling, and that's exactly what the Starlight Hui is.
Starlight Hui stage and seating area (get there early to get a mat to sit on)
She sang so beautifully!  The band's music played around the resort, so I had the songs stuck in my head for days after I got home.  I wished that I found a CD to buy of their music!
Starlight Hui pics (I can't remember exactly what was happening in each picture)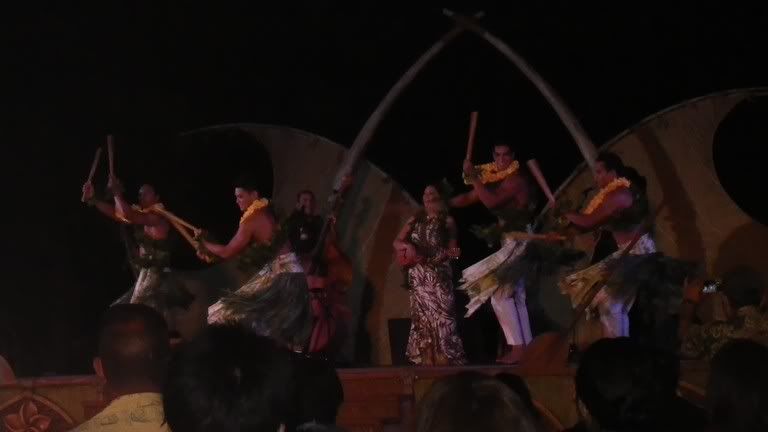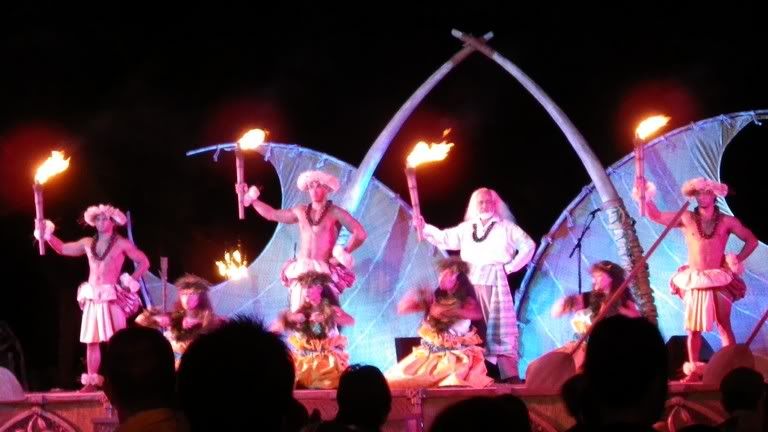 After the beautiful singing and dancing (and some crazy ukulele playing) they bring out the "Disney Friends" to finish off the night with a dance party and some photo ops!
The gang arrived for the dance party!
Me, Stitch, and DH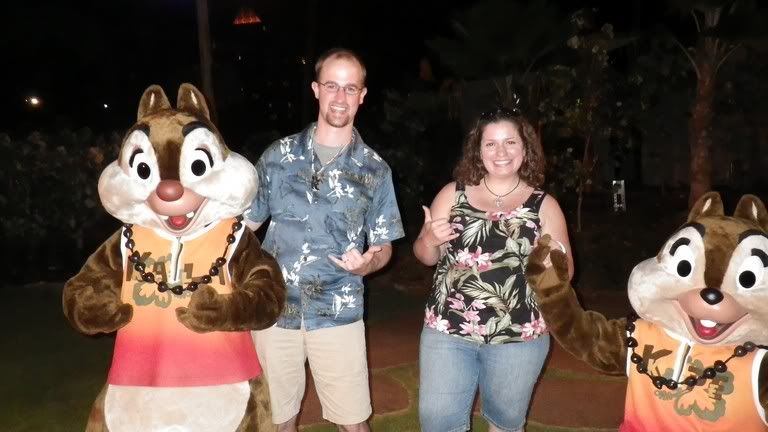 Dale, DH, me, and my man Chip
Paparazzi picture of Mickey
The Starlight Hui is definitely a "must-do Disney!"  In the future I would have made time to catch it both nights it played the week we were there!
Up Next:  Check-out day!
Halloween Weekend is completely full for me, so I probably won't be back until Tuesday.  Don't worry, there isn't much to our last day (lots of sad ocean gazing and trying not to cry while everyone told us Aloha for the last time! lol), and I'll finish with a conclusion to cover anything else I think I might have left out.  Have a fun weekend!
Day 7 (Friday):  Aloha o'e (Till we meet again)
*So it has taken me 8 months to admit that my trip is over and finally complete this TR!  Luckily I had prewritten mostly everything while we were there, otherwise I don't think I would have remembered what we did!
On our last day in Aulani we woke up at almost 7am.  We ordered private dining to the room and worked on packing while we waited for breakfast to arrive.
Our food came (DH had the Chinese breakfast, I had the two egg entree with bacon and Aulani potatoes) and we enjoyed it with our tea (green, for him) and cofee (decaf with caramel creamer for me) and with our last view over the resort for this trip.  We kept telling ourselves that we would be back, and it was hard to hold back from running down and buying Aulani points!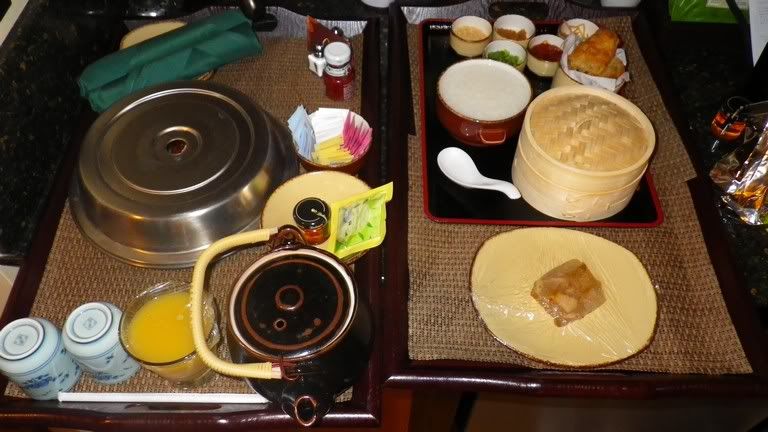 Breakfast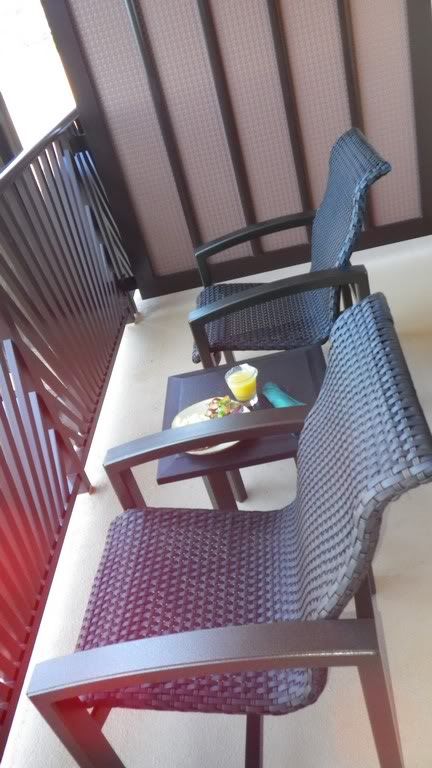 Our last morning on the balcony
 The other side
 Beautiful Ocean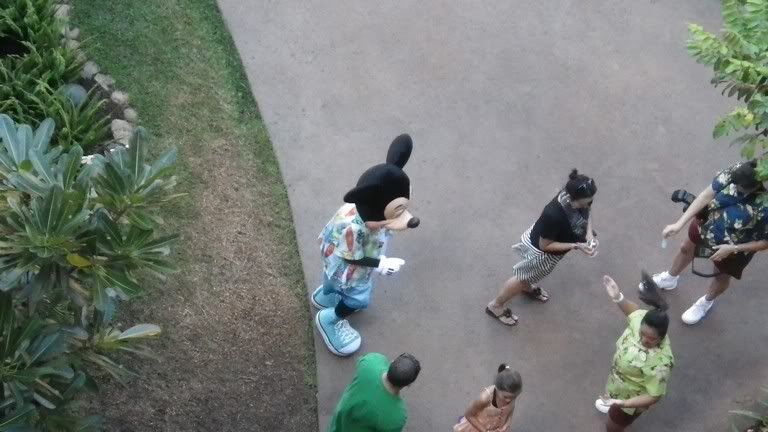 The view of the Mouse
I did our shopping in the gift shop (and got the $20 Aulani tote – it's such a nice little bag!) and we completed our packing.
Gift Shop
Love the ceilings
While we usually feel blue when faced with vacation ending, we felt even more sad to be leaving this time.  At least we knew we were just leaving the room right now and would still have the rest of the day by the pool and in the Luana Lounge.
A last look at the room
We took our change of clothes (we were wearing our swim suits) to the Luana lounge, where they not only have TVs, power plugs, computers for airplane check-in, and showers, but they also have lockers – the same as the kind in the spa (4 digit electronic code for locking).  The lockers are plenty big enough to keep your change of clothes and other things for the day.
I was really excited about these
Then we took our luggage to bell services and just checked to make sure there was no problem with us using the pool and facilities.  The front desk assured us that we were still welcome to use everything, even our room keys until midnight.  So we headed off to the pool for a last trip around the lazy river, a dip in the pools, some relaxing in the tiered hot tub, and then poolside dining.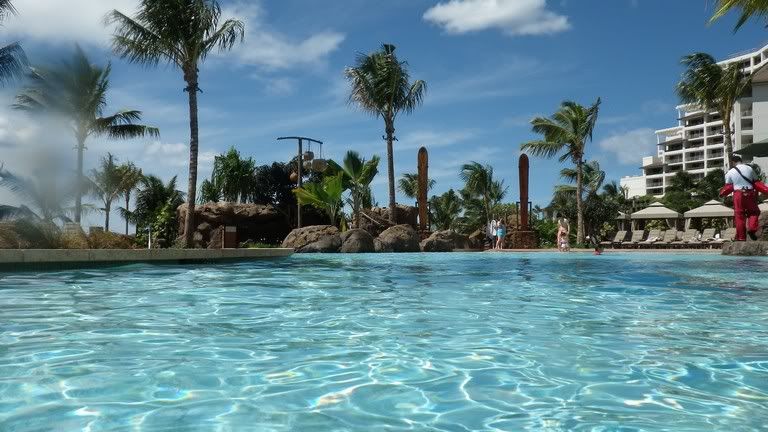 Swimming
In the Hot Tub
 Panorama while waiting for poolside dining
Just as we were finishing up eating it started to rain so we headed to the Luana Lounge to change (which was pretty crowded, since lots of people had the same idea), and then we took a last trip to the ABC store across the street for souvenirs and airplane snacks.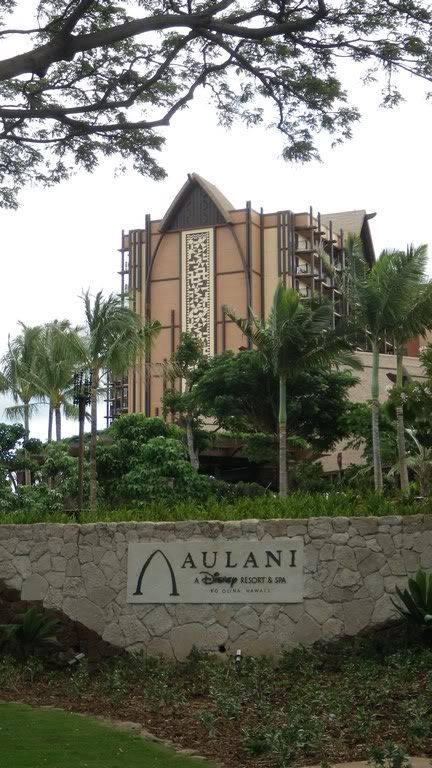 Walking back from the ABC Store
At the front of the resort
On our way back we took a few more pictures, then relaxed in the lounge (checking e-mail, writing this TR, and watching Disney XD).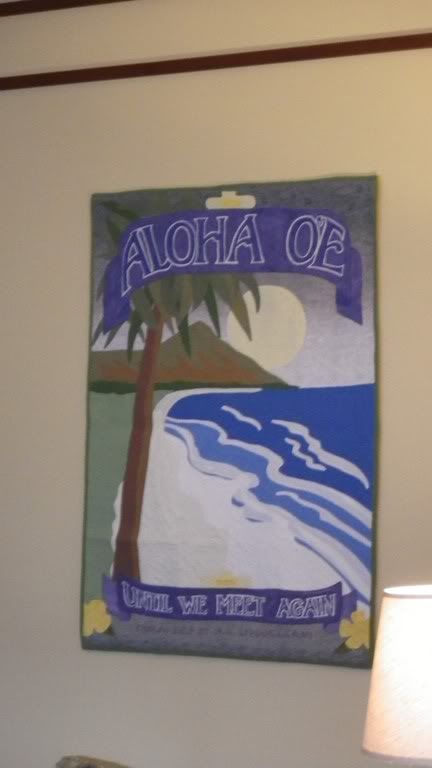 This is it…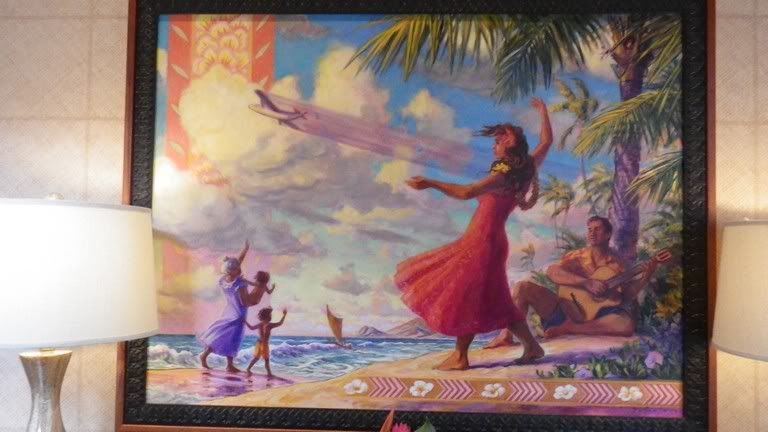 it's really over L
One last look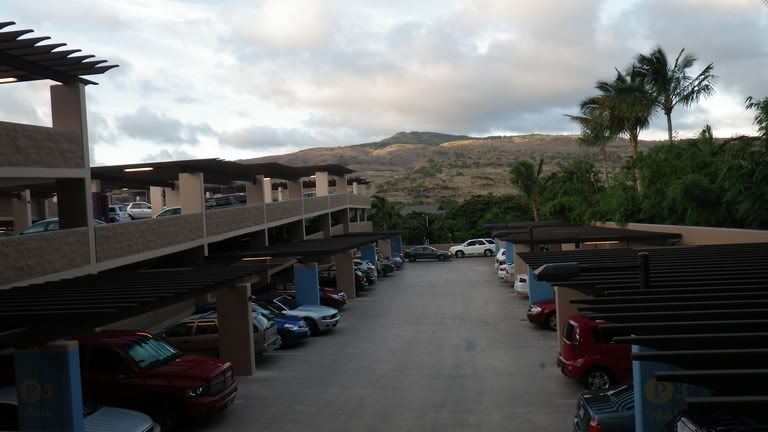 The parking lot / mountain view
Crazy Traffic
It was a slow and relaxing (if not bittersweet) end to our lovely vacation. 
Conclusion
Thank you to everyone that has commented on the trip report.  If it hadn't been for so many people telling me they enjoyed it or that it helped them plan their trip I'd probably never have been motivated to come back and finish these last two posts!  If anyone has any questions feel free to ask, I'll answer as best I can!
Looking back now, 8 months later, I think it was an amazing vacation that I would do again in a second (especially since I'm hoping the new restaurants might have food better suited for a picky eater like myself).  If I had it in the budget right now, I would be buying Aulani points and planning on going there every other year.  I'm trying really hard to remind myself that there are other vacations and other places to visit and enjoy… but for anyone else on the fence about going my answer to you is YES – GO!  Lol
The following are final thoughts that I had noted while writing the TR while in Hawaii:
Don't forget to bring your water stuff!  Water shoes, goggles, beach mat or blanket, (this should be a "duh", but I'd never used them on other vacations so I figured they'd be a waste of space).  It would have been really nice to have stuff like this while we were driving around the island.
The Aulani Cast Members were some of the best I've ever encountered.  Our vacation would have been awesome anyway, but they definitely gave it that Disney Magic.  RJ (who greeted us at the desk), Janelle (who taught us to make leis in the community hall), and Eki (our Adventures by Disney guide both days) are three who's names I remember, and they are the ideal Disney Cast Members for their willingness to share information about the resort and the Hawaiian culture as well as their extreme friendliness.  Another cast member we would group in here would be the guy who works at Aunty's Beach House and was playing the Ukele when we came in for our tour – he was very informative and had tons of stories and tips of where to tour the island, but we unfortunately did not remember his name.  Two more are the spa attendants – they were so nice!  In general everyone there was nice, almost everyone we passed greeted us warmly with "Aloha," but these people were especially great and made our vacation that much more enjoyable!  If you travel there and see any of these folks be sure to say hi for me – and for yourself, as I'm sure they will continue to spread the magic!
The only "Disney Friend" we didn't get to see was Donald.  They do list him in the IWA when characters are doing meet and greets, but we didn't stand in any lines to meet characters (we just did the breakfast and the Starlight Hui).
Disney has really done a great job of making a wonderful experience in Aulani.  As it was our first trip to Hawaii I can't really compare to other resorts on the islands, but I can compare to other hotels and condos I've stayed in at other vacation locations.  Not only was it clean and the cast members friendly, but there was so much to look at and discover.  There was so much to learn and so much out there to teach you.  They really facilitate getting out and enjoying the island.
If I could add one thing it would be a "American" quick service food place – one that serves more "plain" stuff for picky eaters like myself.  Even if they didn't want to serve deep fried chicken tenders, they could serve the grilled ones that they had on the Private dining kids menu.  Or even a plain sandwich place (although the ABC store offered that).  If you have picky eaters in your family I would recommend a room with a full kitchen and getting groceries to prepare meals.  *this original note is hopefully fulfilled with the new Mama's Snack Shop – I'm hoping to see TRs featuring this food so I know for next time
*In Conclusion:  2 Weeks next time!  More time to explore, more time to relax!*
You May Also Like
December 9, 2017
August 29, 2016
January 1, 2016